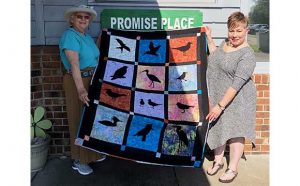 Karen Dodd, the Quilting Mandarin, donates a quilt to the Promise Place Barn Bash Auction that will be held Saturday, September 8 at 5 p.m..
Tickets for the Bash can be purchased on line at PromisePlaceNewBernNC.org.
The quilt displays an assortment of Carolina shorebirds. Each silhouette is mounted on a piece of batik fabric that represents the bird's habitat. The quilt, "Name That Bird" has a list all the birds embroidered on the back.
Promise Place, serving Craven, Jones and Pamlico Counties, is a sexual violence resource center providing trauma-informed advocacy, outreach and trauma-focused therapy.
For more information, contact Monica Kazan at 252-636-3381.
Submitted by: Karen Dodd