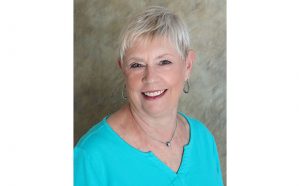 Coastal Women's Forum's (CWF) New President Shows Us How It's Done
When Eileen Nonemaker was looking for a theme for her 2018-2019 term as CWF Board President, the idea of connections and how they shape our lives came to mind. When she ran the idea by her sister, her reaction was, "It's Like Connecting the Dots." Right then and there, Eileen had her theme.
"When we connect the dots," Eileen said, "we join the dots and put two and two together, linking events to see the full picture." And Eileen's life has been full of dots she connected in order to settle in New Bern, run her own coaching business – Paradigm Associates – and become one of CWF's most active members.
Born and raised in New Jersey, Eileen earned her degree in teaching, and taught middle school art for 10 years. Needing a change, she then went into sales and sales management, a field in which she worked for the next 20 years.
It was during this period of her life that Eileen encountered a 'dot' that would connect her to the next phase of her career. She met the founder of Paradigm Associates and began to use him as a consultant for one of her sales teams.
"He told me," Eileen recalled, "with my experience in teaching and sales management, as well as my management style, I would make a good business coach. If I was ever interested, I should reach out to him." So in 2003 that was exactly what she did. Eileen has owned her independent Paradigm Associates coaching business ever since.
In 2005, Eileen and her husband moved to Maryland, where she continued her business coaching career for ten years. Meanwhile, she also continued to pay frequent visits to her sister who lived in Havelock.
After a total of 20 years worth of visits, Eileen and her husband decided they liked the area enough to relocate to New Bern in 2015. They began by renting, then built their home on the Trent River. This meant Eileen had to build her business back up all over again, but they liked the milder climate and being close to the water. They also liked New Bern because there was no shortage of things to do.
"Connecting the Dots" to CWF
One of the first things Eileen did after she arrived in her new city was to joined the New Bern Chamber of Commerce. It was at a Chamber "Before Hours" event where she met CWF President, Jane Maulucci. Jane told Eileen about CWF,, and thinking this would present good networking opportunities, Eileen attended her first meeting. She joined shortly thereafter in 2016.
In two short years, Eileen volunteered to serve on the CWF Board, was Chair of CWF's 30th Anniversary Committee and following a stint as Vice President, is the organization's current President. She did all this while running her business and home. When asked how she manages to accomplish everything so flawlessly, she replied, "It's just who I am."
Connections have always been important. to Eileen. "I like helping people make connections," she said. She derives a great deal of satisfaction watching women "Connecting the Dots" and reaching their goals through the connections they make, just as she did.
Upcoming CWF Event
Wednesday, August 15: Lunch at New Bern Golf and Country Club, 11:30AM to 1:00PM, Travel-Related Networking
By Contributing Author, Penny Zibula, Six Legs Will Travel