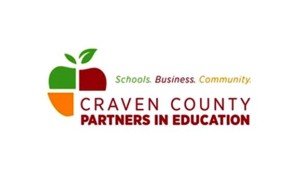 The North Carolina Community Foundation through the Craven Community Foundation, recently awarded Craven County Partners In Education $12,000 for a grant for West Craven High School for graphing calculators and $7,500 for a grant for Vanceboro Farm Life Elementary for audio equipment for their auditorium.  These grants were funded through the Richard Chapman Cleve Fund and the Craven County Unrestricted Fund.  PIE received the highest funding amount for a nonprofit in Craven County through CCF for this grant cycle.
The addition of audio equipment will provide the Vanceboro Farm Life Elementary students, teachers, and community funding to enhance a viable, multi-purpose auditorium with state-of-the-art audio equipment by replacing the current sound system.  The funding will be used to purchase wireless microphones, antennas, mounting docs, an amplifier, cables, electrical mixer, and installation equipment.
The grant award for West Craven High will be used to fund 140 TI-84 Plus Graphing Calculators for West Craven High math students, giving them the tools needed to meet the mandatory test standards of the North Carolina math curriculum.
The Craven County awards will be granted on Monday, Aug. 27 at the North Carolina History Center.
The North Carolina Community Foundation's Mission is to inspire North Carolinians to make lasting and meaningful contributions to their communities.  They accomplish this mission through a unique statewide network of affiliates that leverages the collective power of local leadership to effect meaningful change throughout North Carolina. Craven Community Foundation works in partnership with the NCCF to access investment management, fund accounting, legal expertise, grant-making and other resources that support local charitable purposes. This approach has proven to be highly effective, allowing the NCCF to provide the expertise and services associated with a full-service community foundation, while at the same time leveraging the local leadership and expertise necessary to meet community needs and ensure that resources stay local.
For more information about how you can support PIE, contact Darlene Brown at 514-6321, or at Darlene.Brown@CravenK12.org. Visit the PIE website at CravenPartners.com to learn more about the programs offered by Partners In Education.
Partners In Education is the local educational foundation that provides grant funding and special programs to classrooms and schools within the Craven County Schools system.
Submitted by: Darlene Brown, Craven County Partners In Education