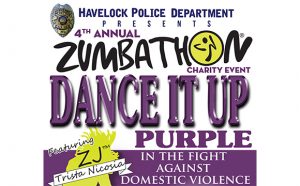 September 8, 2018, 10 a.m. – 2 p.m. at the Havelock Tourist and Event Center
This event is action packed with tons of energy. Get ready for some of the top instructors to knock your socks off with this exciting event! Featuring ZJ Trista Nicosia- The Zumba Jammer who is going to lead our Zumbathon live!
It doesn't stop there however, there is a HUGE raffle for you to splurge on yourself and shop at some of the area's BEST business'- spoil yourself with a getaway to Myrtle Beach, enjoy a day at the spa, play that round of golf! Our silent auction is jam packed with items you won't want to miss. Check. It. Out! The best part? All of your dollars will benefit victims living a life free from domestic violence in our area. We will feature vendors and you can automatically enter to win several raffles and door prizes.
Worried about keeping up? Don't be! Participants will be able to follow the dance steps much better while viewing themselves on two large live streaming screens! Instructors will leap from the stage and get down in the audience to dance it up purple with you! Let's dance it up purple, so don't forget to wear your favorite purple gear and support our fight against domestic violence.
So join us as for our 4TH Annual Zumbathon! This highly anticipated event is proudly hosted by the Havelock Police Department! Tickets can be purchased at the Havelock Tourist Center, Make It Personally Yours, Havelock Police Department, at our office located at 1333 S Glenburnie Road, or online here.
Looking to be a vendor? Vendors participating in our 2018 Zumbathon will enjoy first rights of refusal for our 2019 Zumbathon! Vendor fees are $50 and a donated raffle item. To register, please contact Michelle Garcia or 252-626-3035.
Submitted by: Candice Parker, Fund Development Coordinator, Coastal Women's Shelter