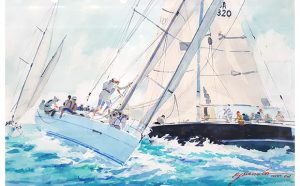 Race to the Finish by Ed Macomber
Renowned Watercolorist to exhibit at Bank of the Arts
August 7 – 30, 2018
Craven Arts Council & Gallery is proud to present the work of Ed Macomber in the Director's Gallery August 7th- August 30th. Known throughout the state and national watercolor scene, Macomber's work depicts many facet of life. Craven Arts Council will host a opening reception on August 10th, from 5pm to 8pm, during the downtown New Bern Artwalk.
Known to many in New Bern as the orginal owner of the local artist supply store "Arts and Materials," Ed Macomber's work has been featured in local, regional, and national exhibitions. Working primarily in watercolor, Macomber's watercolors reflect both brilliance of color and discipline of line and brush stroke, which gives Ed's art a unique style and verve. His work depicts scenes ranging from jazz musicians, sports scenes, urban landscapes, and portraits.
He has received numerous awards for his work, including Signature Membership into the North Carolina Watercolor Society. Macomber is also a member of the Twin Rivers Artists Association, the Southern Watercolor Society, and the American Watercolor Society.
For more information please contact Jonathan Burger, Marketing and Gallery Director, Craven Arts Council & Gallery, Inc. at the Bank of the Arts, 317 Middle St., New Bern, 252-638-2577
Submitted by: Jonathan Burger