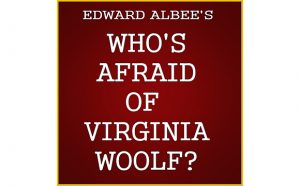 Directed by Lori Favre
Produced by Kait Fletcher
Evenings: July 20, 21, 27 & 28 at 7:30 pm
Sunday Matinees: July 22 & 29 at 3 pm
Please Note: This is a RATED R Show
Tickets are $13 in Advance, $16 at the door and $10 for students. Tickets can be purchased from the Masonic Theatre's box office starting 1 hour before the show or online at RivertownePlayers.org/tickets.
Who's Afraid of Virginia Woolf examines the complexities of the marriage of a middle-aged couple, Martha and George. Late one evening, after a university faculty party, they receive an unwitting younger couple, Nick and Honey, as guests, and draw them into their bitter and frustrated relationship.
Don't miss your chance to see this classic brought to life on our stage!
Submitted by: Kait Fletcher, RiverTowne Players