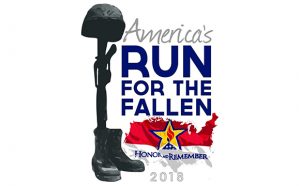 Sponsored by Run for the Fallen Honor & Remember, Inc. (501-3-C)
11 a.m. to 1 p.m. (estimated arrival at New Bern)
America's Run for the Fallen, a five-month, cross county marathon honoring military personnel killed in the line of duty during the Global War on Terror is coming through New Bern.
Craven County Veterans and Civil Organizations come together to support the upcoming America's Run for the Fallen scheduled for July 28th. The community will welcome the runners as they enter New Bern near Academic Drive on MLK Jr. Blvd, with a "Line of Flags" presented by the North Carolina Patriot Guards. Following a brief stop to read selected names of the Fallen they will continue additional five stops through the New Bern. The following organizations are participating in this event; VFW Post 2415 & Auxiliary, DAV Chapter 40 & Auxiliary, American Legion Post 539, Vietnam Veterans of America Chapter 886, Military Order of Purple Heart #232, Employment Base Camp & Organic Garden, Twin River Lions Club, New Bern Lions Club, Elks Lodge 764, and Neuse Basin District Boy Scouts.
To see stops go to MapMyRun.com/routes/fullscreen/1804552154/  and zoom in on 33-39. For additional information and updated arrival time call (252) 288-6875.
Background:
"Run for The Fallen" – "To Individually Honor and Remember All Military Service Members Who Died during The War on Terror."
On April 7, 2018 Honor and Remember Inc. initiated America's Run for the Fallen, one of the most comprehensive fallen military tribute events ever organized. Trained marathon running teams cover one mile for each day a service member died in an organized tribute run from California to Arlington National Cemetery.
The Run calls attention to and specifically honor the men and women who have died during the War on Terror beginning with the USS Cole Oct 12, 2000. A rotating team of more than 400 active duty military and civilian members from throughout the nation embarked on a 19 state, 6100-mile journey to honor every fallen service member, numbering nearly 20,000. Each mile of the route is dedicated to individual heroes and their families, based on their chronological date of death. Carrying a full size American Flag, Honor and Remember Flag and Honor and Sacrifice Flag along with hero information, each relay team will stop at one-mile intervals in an apolitical reflection of remembrance of each service member. There they call each name out loud and deliver a short tribute for waiting Gold Star family members, friends, comrades and patriots. Covering approximately 50 miles per day, each day concludes with an ending ceremony at planned stopping points in local towns and communities. The goal of Run for the Fallen is to blaze a memorial trail across America recognizing every service member who died as a result of serving in the armed forces.
America's "Run for the Fallen" kick off was Saturday morning, April 7, 2018, at 6:30 a.m. at Fort Irwin, California, with a "start" ceremony for the five month, 6000+ mile mission through California, Arizona, Utah, Colorado, New Mexico, Texas, Oklahoma, Kansas, Nebraska, Iowa, Illinois, Indiana, Kentucky, Tennessee, Alabama, Georgia, South Carolina, North Carolina, and Virginia to finish at Arlington National Cemetery, on Sunday August 5th.
During the run though New Bern members of VFW Post 2514 and Axillary, DAV 40 and Axillary, American Legion Post 539, Military Order of Purple Heart #639, Twin River lion Club, and New Bern Lion's Club are providing lunches, and other provisions for the runners and establishing the stop stations. An End of Run ceremony is scheduled for 6:pm at the 1st Christian Church, King and Brown St, Washington, NC where the names of the fallen are again read and the community is welcome to meet the runners.
Tax deductible donations to support event expenses are welcome at RunfortheFallen.com.
Submitted by: Dobert Owsley, Media Coordinator, Craven County Veteran's Council