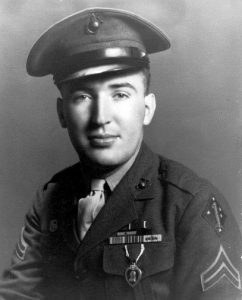 Renowned Historian Reflects on His WWII Experience
For those soldiers wounded in battle in the Civil War, often the outcome was grim. For those wounded in World War II, the outcome was far different. Renowned historian Ed Bearss was with the 3rd Marine Raider Battalion in the invasion of Guadalcanal and the Russell Islands, and the 1st Marine Division in New Britain. In 1944, Bearss was severely wounded by Japanese machine gun fire and spent 26 months recovering in various hospitals. In his 12th annual visit to New Bern, Ed will discuss medical conditions over the years and the possible outcome if he had incurred his extensive injuries during the Civil War. Be sure to see him at Cullman Performance Hall at the North Carolina History Center at 2pm on Sunday, July 22. This presentation was originally scheduled in January but was re-scheduled due to weather.
This is the twelfth in a series of annual visits for Bearss, who was instrumental in the preservation of New Bern's Civil War battlefield. One of the leading historians and experts on the Civil War, Ed was recently presented a Lifetime Achievement Award by the American Battlefield Trust and was also the first inductee into their Battlefield Preservation Hall of Fame. Jim Lighthizer, President of the American Battlefield Trust explains, "From his dynamic and detail-rich tours to his recovery of the lost U.S.S. Cairo gunboat, Ed's phenomenal memory and tenacious curiosity have made him a powerhouse of knowledge and discovery."
Ed Bearss served as Chief Historian of the National Park Service from 1981 to 1994 and is now Chief Historian Emeritus. This sought-after speaker and PBS commentator is also a prolific author known for his work on the American Civil War and World War II eras, and a popular tour guide of historic battlefields world-wide. Considered "An American Treasure" by the Smithsonian Institution, his books are definitive works on the period. It's easy to see why folks line up to hear him speak. Don't miss the opportunity to hear this amazing man.
There is no charge and reservations are not necessary for this presentation. Early arrival is recommended. There will be a reception in Mattocks Hall following the presentation.
This lecture is presented by the New Bern Civil War Round Table and the New Bern Historical Society in partnership with Tryon Palace. For additional information, please call the New Bern Historical Society at 252-638-8558 or at newbernhistorical.org.
The mission of the New Bern Historical Society is to celebrate and promote New Bern and its heritage through events and education.  Offices are located in the historic Attmore-Oliver House at 511 Broad Street in New Bern.  For more information, call 252-638-8558 or go www.NewBernHistorical.org or www.facebook.com/NewBernHistoricalSociety.
Submitted by: Kathy Morrison, Public Relations, New Bern Historical Society