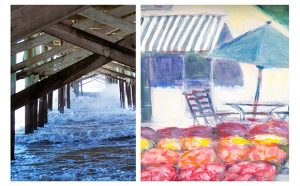 This Friday Night with Jazz Music, Thai Food and our Two Featured Artists of the Month!
Photographer Joya Barnett and painter Belinda Scheber will be featured as "Artists of the Month" for July 2018 at the Community Artists Gallery & Studios in New Bern, NC. Their work will be highlighted from July 1 through 31. They will meet the public at a reception during the city's Art Walk on Friday, July 13, from 5 to 8 p.m.
"Our coastal environment provides a wealth of subject matter for both of these artists," said Sandy Bruno, president of Community Artists Gallery & Studios. "It's intriguing to see how that influence is expressed in their different mediums."
Barnett joined the Gallery in 2017. Joya finds inspiration in her Christian faith, in nature, and in music, which was her field of study. Many of her prints merge text and image. She is a graduate of Craven Community College and East Carolina University.
Belinda Scheber, new this year to the Gallery's complement of studio artists, paints in acrylic and watercolor. One of her paintings was selected as the official art work for New Bern's 2017 Mum Fest. Scheber is a member of the Coastal Carolinas Plein Air Painters and Twin Rivers Artists Association. Her work is visible on the online gallery Daily Paintworks. She studied geology and geography at George Mason University and the University of New Mexico. She is now retired from her career as a civil servant and cartographer with the U.S. Army.
Jazz guitarist Phil Owens will be providing the music during the three-hour Art Walk reception. Phil Owens is a native of Upstate New York who has made New Bern his home for the last 20 years. He and his wife, songwriter and vocalist Andrea Owens, continue to perform in town at various functions, theatre shows, and concerts.
Phil lived in Boston from 1968 to 1978, a wonderfully formative period for jazz in the city where both Berklee and New England Conservatory are located. Phil studied guitar with Gary Burton's guitarist, Mick Goodrick and formed a group which opened concerts for Herbie Hancock and Weather Report, amongst others.
Upon returning to Central New York, Phil and Andrea were regular performers  in the region and at the Syracuse Jazz Festival, one of the country's largest free jazz festivals.
1997 brought about the move to New Bern for Phil, Andrea, and their two children, both of whom are currently performing musicians residing on Brooklyn, NY.
Food for the reception will be available from Jasmine Tasty Thai food truck.
Community Artists Gallery & Studios is a nonprofit, cooperatively-run arts center hosting the work of over 30 artists in a variety of media. The gallery and studios are located at 504 South Front Street in New Bern, across from the North Carolina History Center and the city's Farmers Market. Regular hours are Tuesdays and Thursday through Saturday, 10 a.m. until 4 p.m. For more information, send an email or find the gallery on the web at CommunityArtistsGallery.com and on Facebook.
Submitted by: Lisa Seeber, Public Relations, Community Artists Gallery & Studios