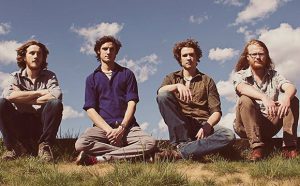 Travers Brothership will be one of the headlining artists at this year's lineup, which includes The Oblations, Adam Hill Band, Dub Addis, Young Bull and Jimmy, for the Bernaroo Music Festival on July 20, 2018. The festival will take place on Craven Street in downtown New Bern, NC.
Travers Brothership is a dynamic group based out of Asheville, NC featuring high-energy alternative, soul and funk. They have won multiple awards, including Home Grown Music Network's Best Studio Album of 2016 for their debut album "A Way to Survive" and the Asheville Mountain Xpress Best Alternative Band of 2016.
The band is currently on their 2018 U.S. Summer Tour. They are also preparing to tour Europe in 2019 under Belgium agency, Teenage Head. You can purchase tickets for their upcoming tour here. You can also check out their music on Spotify. To purchase tickets or find out more about the event click here.
Submitted by: Megan Keim, Sole Proprietor/Certified Sound Engineer, Megan Kay Music