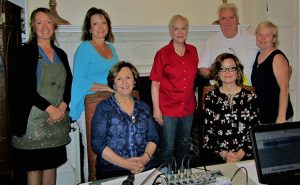 Episode 94
Find out the latest information about our beautiful and happening town of New Bern and Beyond. Beyond, meaning our travels throughout Eastern North Carolina.
During this show, New Bern Now's Podsquad: Lisa Bisbee-Lentz (Greater Good Gallery), Colleen Roberts (City of New Bern), Kathy Morrison (New Bern Historical Society), Susan Moffat-Thomas, and I talked about all kinds of positive things happening in our community! Gail Bisbee and Dobert Owsley joined us as special guests.
Listen to our podcast show here:

If you didn't know, The Podsquad meets every other Thursday to record the bulk of the podcast. We also do phone interviews throughout the week and insert the recording into the next podcast.
This podcast is brought to you by our friends at the Craven County Veterans Council. They're a clearing house for veterans information, they support the craven county veterans services office, host special events like the Memorial Day Ceremony and the Veterans Luncheon. Find out more by visiting their website at CravenCountyVeteransCouncil.org, call James O. Woods, Jr. at 252-296-6610, or join them the second Monday of every month at 7pm at the VFW Post 2514.
Show notes:
1:46 – Catching up with the Podsquad
2:06 – Interview with Gail Bisbee about Duct Tape Marketing Seminar by Dan Kraus
11:33 – Ceremony to Celebrate Bicycle and Pedestrian Access
16:17 –  Memorial Day Military Appreciation Day
16:31 – Interview with Dobert Owsley, Media Coordinator for the Craven County Veteran's Council – discusses Remembrance Day and Memorial Day Services
25:58 – Seth Thomas Clock at NC History Center
27:11 – New Bern's 300th Anniversary
28:46 – Update on City Hall Clock
30:46 – Resource Information Fair
31:06 – Understanding and Managing Chaos with Keynote speakers will be Bob Fuller, Targeted OD and George Oliver and Clayton Cheek with Oliver & Cheek Law Firm
32:00 – Adoption Event featuring dogs from The Guardian Animal Foundation
32:22 – Big Jim Kohler live on The Deck
32:38 – "Footloose on the Neuse" Summer Concert Series: Carolina Soul Band (Motown, Soul)
33:10 – 25th Anniversary Aurora Fossil Festival
33:26 –  Poor Charlies Flea Market & Antiques Sidewalk Sell-abration and participate in old fashioned games
33:51 – Fairlight Moriah Duo live on The Deck
34:03 – Behind The Scenes: Museum Technology
34:27 – Blood Brothers
34:57 – Annual Free Skin Cancer Screening
35:39 – New Bern Community Drum Circle
36:07 – Sign up now for Summer Camp
38:09 – Latest from the New Bern Historical Society
42:51 – Daytrippin'
– Strung Together Live at the Olde Beaufort Farmer's Market
– Kayak for the Warriors for their Hope for the Warriors two Fundraising Events
– Arts – Artisans Show and Sale
– North Carolina Black Bear Festival and Blackberry Extravaganza
– 2018 Special Olympics NC Summer Games
48:47 – Special thanks to Mike Afflerbach, owner of New Bern's News Talk Radio Station WNOS 103.9FM and 1450AM, for airing our entire podcast show every Wednesday at 8am and 5pm.
49:47 – New Bern Live Facebook Group
51:53 – Find out how to promote your non-profit or business on New Bern Now's website, magazine, and/or podcast.
Tune into our latest Podcast episodes and radio interviews on ITunes. You can also listen to the show on New Bern's News Talk Radio Station 103.9FM and 1450AM.
We'll be back on June 4, 2018.
Special thanks to Mike Lentz and Lisa Bisbee-Lentz for letting us record our Podcast in the Isaac Taylor House!
Please let us know if you have any comments, suggestions, or would like to set up an interview and spread the word about a special event or other interesting topic. Send me an email or give me a call at 252-259-6853.
Wendy Card