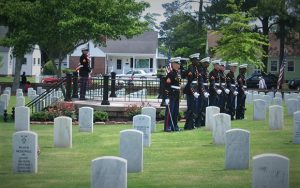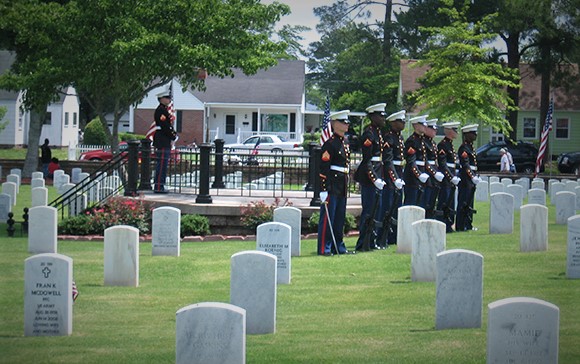 Point of interest: As a nation we celebrate two holidays honoring veterans. Memorial Day (we horror the fallen) and Veteran's Day (we honor living veterans)
Remembrances Day – May 26th (Saturday morning) 9 a.m. – 11 a.m.
Sponsor: Girl Scouts Enchanting Waters Service Unit, New Bern supported by local Boy Scouts Troops.
Location: New Bern National Cemetery, 1711 National Ave. New Bern, NC
Veterans and the local the Community are invited to attend
Sequence of Events
– The program begins at 9 a.m. with the presentation of the Colors by the New Bern Young Marines
– Stars Spangled Banner played by the older scouts
– The Pledge of Allegiance is led by younger scouts and patriotic poems are read by the youth
– Veterans are asked to assemble in front of the group to be recognized for their service to our country and keeping us free
– The Colors are retired and Taps played
– Everyone is asked to help place miniature American flags on all of the graves at the conclusion of the program
For more information call Diane Buchner at 252-514-2350 or the Craven County Veterans Council Message Center (252) 296-1381
Memorial Day Program – May 28th, 11 a.m. – 12 p.m.
Sponsor: Craven County Veteran's Council and New Bern National Cemetery
Location: New Bern National Cemetery, New Bern, NC
Sequence of Events:
– Invocation
– Presentation of National Colors (Cherry Point Air Station honors detachment)
– Singing of National Anthem and Pledge of Allegiance
– Introduction of Gold Star Mothers
– Reading of Gettysburg Address
– Keynote Speaker – RADM Jay Deloach, USN (Ret.)
– Amazing Grace on pipes, rifle salute, Taps (with echo)
– Benediction
NOTE: Complimentary water is available and limited seating will be provided…it is recommended to bring personal lawn chairs and appropriate weather protection.
History of Memorial Day
Three years after the Civil War ended on May 5th, 1865 the Grand Old Army (organization of Union Veterans) established Decorations Day as a time for the Nation to decorate the graves of Civil War dead with flowers.
May 30th was selected due to the abundance of spring flowers.
The first large observance was held at Arlington Cemetery.
After WWI the day expanded to honor all veterans who died in all wars.
In 1968 Congress passed the Uniform Monday Holiday Act – establishing Mondays as the day to celebrate Memorial Day Memorial Day and others (Washington's Birthday, Labor Day, Columbus Day) to give federal employees a three day weekend (Veteran's Day remained November 11th). In 1971 it was re-maned Memorial Day to be celebrated on the last Monday of May.
History of New Bern National Cemetery
Established February 1, 1867 (second oldest in nation)
Many of the burials at New Bern are from Beauford, Hatteras and other locations along the coast – over 1,000 are unknown.
Total burials 7,517
Special Programs Assistant: Sandra LaRochell
Ways to celebrate Memorial Day (other than attaining a Memorial Day Ceremony)
Visiting cemeteries and placing flags or flowers on the graves of veterans
Visiting memorials
Flying the U.S. Flag at half-staff until noon or displaying it with a black ribbon
Flying the POW/MIA flag
Participating in "National Moment of Remembrance" at 3:00 PM
Renew a pledge to aid widows, widowers, and children of fallen veterans
Submitted by: Dobert Owsley, Media Editor, Craven County Veteran's Council