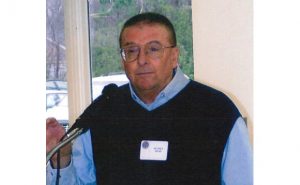 On Tuesday, May 8, 2018 at 6:30 p.m., the Craven County Genealogical Society will begin the evening with a cookie and punch reception where guests and members are welcome to discuss their research and learn more ways to find their ancestors.
At 7 p.m., the Society will host a free program featuring Mr. Rodney Kemp, who will share his presentation, "Gentle On My Mind:  Historical and Humorous Stories About Coastal Carolina" about his life in Eastern North Carolina focusing on Craven and Carteret Counties.
Mr. Kemp was born in Knoxville, Tennessee and grew up in Morehead City. He is a crowd-pleaser and keeps both children and adults spellbound with his stories.  He has managed to remember all those tales he heard growing up.  His humor comes not only from his folksy manner, but also from his knowledge of and affection for the people and places of his boyhood.
In 1964, he graduated from Morehead City High School and then majored in journalism, English, and history at Texas Tech University.  He returned home to become a teacher and coach for three years at Newport Elementary School and for eleven years at West Carteret High School.  Since 1983, he has been in the insurance business and affiliated with Chalk & Gibbs since 1989.  He is involved in many historical organizations including the Carteret County Historical Society which has an excellent museum and research library where he has presented his popular "Fridays With Rodney" talks since 2001. In 2003, he was named North Carolina Historian of the Year. Contact Rodney via email.
Following Rodney's presentation, we will have our popular Genealogy Q&A, so please bring your questions and hopefully someone in the group may be able to assist you.
The Society's monthly meetings are held at the New Bern LDS Church located at 1207 Forest Drive off Trent Road.  The monthly meetings are free and open to the public and membership is encouraged.  The Society has a vibrant and diverse membership representing not only Craven County and North Carolina, but also many other states as well.  The members are dedicated to fostering interest in the research, preservation, and sharing of family heritages. We welcome you to join us for this month's meeting.  For more information, please visit CravenGenealogy.org or contact President Nancy Perdue at 252-638-3291.
You are invited to visit the New Bern LDS History Center which is free and open to the public on Tuesdays (1 p.m. to 4 p.m. and 6 p.m. to 9 p.m.), Wednesdays (6 p.m. to 9 p.m.), and Thursdays (1 p.m. to 4 p.m.).  It is staffed by researchers who are happy to assist you in learning how to find your ancestors.  The Center provides free on-site access to some of the most popular online genealogy as well as and Correct Map of well as having books relating to local area family history.
Submitted by: David French, The Family History Society of Eastern North Carolina