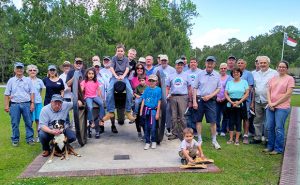 Historical Society Thanks Volunteers
On a perfect day, volunteers from throughout Eastern North Carolina pitched in to help at New Bern Battlefield Park. Working in partnership with the Civil War Trust, the Battlefield Park hosted Park Day, an event that combined work, learning and fun.  Nearly 50 volunteers of all ages picked up their rakes and helped clean out redans or fighting positions that have been in place since the Battle of New Bern on March 14, 1862.
The New Bern Historical Society is pleased with a great turn out. All who helped were treated to lunch, a guided tour, and were given a commemorative t-shirt.  Battlefield Park Site Manager, Jon Miller thanks all friends, families and volunteers who came out for the morning.  "We want to thank Gibbs Dentistry who provided the hot dog lunch for all."
The Historical Society owns and maintains the park and encourages everyone to come out and visit the park.  It is open to the public from sunrise to sunset daily.  The park recently expanded the history walk with a $250,000 upgrade to trails and interpretive signage.  The gateway plaza was added featuring a 20 foot in-ground concrete map displaying the battle area and noting the locations and actions of all the units that took part in the Battle of New Bern. All of this was done with private funds.
Since 1996, the Civil War Trust has sponsored Park Day, an annual hands-on preservation event to help Civil War, Revolutionary War, and War of 1812 battlefields and historic sites take on maintenance projects large and small. New Bern's Battlefield Park joined in this national event.   "While our beautiful park reflects the work of many volunteers from Battlefield Guides clearing trails, to Boy Scouts building observation platforms to Marines building bridges, there is always much to be done" said Jon Miller, as he directed the action.
The mission of the New Bern Historical Society is to celebrate and promote New Bern and its heritage through events and education.  Offices are located in the historic Attmore Oliver House at 511 Broad Street in New Bern.  For more information, call 252-638-8558 or go NewBernHistorical.org or Facebook.com/NewBernHistoricalSociety.
Submitted by: Kathy Morrison, New Bern Historical Society