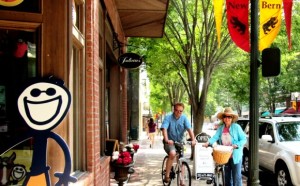 April 16th – May 5th: Neuse River Senior Games and Silver Arts at various location throughout Craven County. Call 252-636-6606.
30th: Fundraising Luncheon with Washington Post Correspondent, Jenna Johnson, 11:30 a.m. at The Chelsea Restaurant. Presented by The Friends of the New Bern-Craven County Public Library.
30th: Autism Awareness – Paint Party, 6:00 p.m. – 8:00 p.m. at Wine and Design, 1910 S. Glenburnie Rd. Call 252-633-4555.
May
1st – 31st: Tryon Civitan Food Drive benefiting Religious Community Services, drop off location is the UPS Store, 1822 S. Glenburnie Rd. Call 252-637-7500.
1st: Coastal Women's Forum Dinner with Speaker Police Sgt. Maria Bowen, 5:30 p.m. at The Chelsea Restaurant.
3rd: Stop, Sip, and Shop with Cravin Wine, 4:30 p.m. – 7:30 p.m. at Merle Norman of New Bern and The Sassy Boutique, 3601 Trent Rd. Call 252-514-2675.
3rd – 6th: Craven Community Chorus in Concert in the Orringer Auditorium, Craven Community College. Call 252-670-0230.
4th: New Bern Walks a Mile, 6:00 p.m. – 7:00 p.m. at Union Point Park. Call 252-637-5706.
4th: Teacher of the Year: A Documentary based on a True Story Screening, 6:00 p.m. – 9:00 p.m. at the North Carolina History Center. Call 252-639-3500.
4th – 6th: Sweeny Todd, Fri – Sat: 7:30 p.m.; Sun: 2:00 p.m. at the New Bern Civic Theatre. Call 252-633-0567.
4th: Rock out on the Patio with Peace Soldier, 8:00 p.m. – 11:00 p.m. at Circa 1810 at the Harvey Mansion. Call 252-635-3232.
5th: Craven County Clean Sweep, 9:00 a.m. at Lawson Creek Park. Call 252-633-1477.
5th: CPR and AED Training, 9:00 a.m – 1:00 p.m. at Township 7 EMS, 2103 Old Cherry Point Rd. Presented by BEAR Tactical Solutions. Call 304-790-4705.
5th: Petsense National Adoption Day, 11:00 a.m. – 5 p.m. featuring adoptable pets from Colonial Capital Humane Society with Mari's Hella Fat Food Truck during the event. 252-636-0460.
5th: Fairgrounds Flea Market, 7:00 a.m. – 2:00 p.m. at Craven County Fairgrounds. Call 252-636-0303.
5th: Cinco de Mayo at Brewery 99 with The Tiny Tornado, 1:00 p.m. – 4:00 p.m. at 147 Broad St. Call 252-259-6393.
5th – 6th: The Neuse River Artist Studio Tour 2018. Call 252-571-8562.
4th – 5th: 8th PRAXIS Film Festival, 10:00 a.m. – 10:00 p.m. at the Paramount Theater in Goldsboro, NC. Call 919-723-7681.
5th: Cinco de Mayo at BrÜtopia with The Joe Baes Project, 7:00 p.m. – 8:00 p.m. at 1201 Hwy 70 E. Call 252-631-5142.
6th: New Bern Drum Circle, 6:30 p.m. at Union Point Park. Presented by Andrea Clements Thompson and New Bern Parks and Recreation.
Happenings Live at The City Laundry
There are also all kinds of things to do in and around town. To name a few, take advantage of over 20 parks and 3 recreation centers maintained by New Bern Parks & Recreation and Craven County Recreation & Parks. Play disc golf at Glenburnie Park and Creekside Park, roller skate at Rollerland, go horseback riding at Equidae Farms (288-9706), or check out the Bear Towne Escape Room.
Visit the New Bern-Craven County Library for free classes, reading programs, movie rentals, etc.
Watch a movie at Bear Town Cinema 6.
Take a self-guided walking tour or have locals take you on a tour: Cruise the Neuse Boat Tours (876-7232), Pedi-Bear Tours (649-3839), Scenic Airplane Ride by Tradewind Aviation (636-0716), Tugboat of New Bern Cruises (919-306-5712), and Trolley Tour (637-7316). Call New Bern Tours for more options (637-7316).
Tour the New Bern Civil War Battlefield Park. It's not only for Civil War Buffs, but it's a perfect place to take a walk in the woods (with your dog), picnic, or sit on a bench and watch the wildlife.
Take a walk in the woods in the Croatan National Forest. The forest's habitat has carnivorous plants like the Venus flytrap, pitcher plant, sundew, butterwort, bladderwort among other exotic plants. The Croatan spans approximately 160,000 acres and is located in New Bern's backyard. It's a sanctuary for black bear, deer, wild turkey, quail, coyote, bald eagle, beaver, bobcat, porcupine, American alligator, red-tailed hawk, and other wildlife you may see. For maps and more information, talk to the people at the Croatan National Forest's Ranger's Station on Hwy 70 E (638-5628).
Listen to our latest Podcast to hear more about the latest happenings in New Bern and Beyond:

If you don't have time to listen to the entire episode, click here to see the show notes and listen to parts of the episode.
Tell us what you think sending us an email. Visit New Bern Now's Facebook page or sign up for the latest updates by submitting your email address in the right margin on New Bern Now's website.
Wendy Card