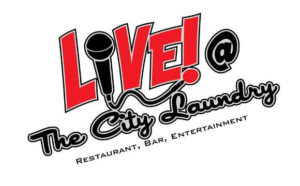 Tuesdays in April! Local Bands and Brews hosted by Parker Millar, 7:30 p.m. These events will feature performances from 4-5 bands weekly. The kitchen at Live will be offering up some delicious new menu items to enhance the experience. No cover charge.
Wednesdays in April! Artists Alive. Presenting a weekly interactive event to promote and nurture the Arts Community in New Bern. Each Wednesday we will explore a different Art medium. We are seeking local Artists to help inspire these events. Please message us if you'd like to participate.
5th: John Van Dyke, 7 p.m. Local singer John Van Dyke offers an evening of Cabaret entertainment featuring Broadway, Contemporary and Great American Songbook tunes.  No Cover charge.
6th: Five Mile Radius and Peaceniks, 8 p.m. Five Mile Radius is a gritty hard rock band out of Raleigh. Their unique sound is a combination of Classic Rock and Motown influenced vocals, crunchy guitar riffs with a smattering of heavy blues, and a heaping helping of melody. The band consists of Johnny Sinatra – Vocals/Rhythym Guitar, Hunter Sackreiter – Lead Guitar, and Greg Hieronymi – Drums. The show will open with Peaceniks, a local favorite featuring Neil Vendrick, Matt Holman and Chris Buttitta   $7 Cover Charge.
7th and 28th: Bar Olympics, 1 p.m. – 5 p.m. Rally your team and compete in classic party games to win some amazing prizes! We will be awarding gold, silver, and bronze to the top three teams. Bring your team and your crew to cheer you on to victory. The kitchen will be cooking your favorites and there will be specials on craft brews & cocktails. We will take 2 man teams. Hatful of beer (4 beers) included with each registration. Call now to register your team, space is limited! Games start at 1:00 pm. Early registration is $12 per team Registration on the day of the event will start at noon, and the fee for same day registration is $14.
7th: Electro Swing Party, 9 p.m. Enter our swinging speakeasy and dance the night away. Electro swing mixes classic swing tunes from the jazz age with modern electronic house and hip hop beats. The theme for the night is Vintage Great Gatsby so hit the thrift shop or Grandma's closet and dress to impress!  9pm Cover Charge $5.00
12th and 26th: Vintage Thursday with Alisa Mike, 6:30 p.m. Popular local singer Alisa Mike serenades us with jazz standards from the Great American Songbook. Vintage nights with Alisa are a wonderful trip back through time. She is a true Artist and a voice you must hear!" Table reservations are recommended. No Cover charge.
13th: Bridge to Breakdown, Stairwell, Weight of Whispers, 8:30 p.m. Band with a unique writing and performance style. Combining Rock, Metal, Blues, and Alternative to create a powerful fusion. A local favorite! B2B will be joined by Weight of Whispers, a high energy hard rock band based out of Wilmington. And Greenville favorite Stairwell. $10 Cover Charge.
14th: Stand up Comedy Showcase, 8 p.m. Hosted by Matt White, winner of the "2012 Port City Top Comic" and 2013 "Carolina's Funniest Comic", Matt White's brand of observational humor mixed with improv and theatre elements engages audiences and leaves them giggling for days. Tickets $8.
18th: A Poetry Happening, 7 p.m. Hosted by Melissa Black with featured Artist no name lola. This is an open event and all forms of Poetry are welcome. The evening will include an Open Mic session and an interactive Round Robin. We'll start at 7pm with sign up and explanation of the Round Robin prompt. Starting at 7:30 we will do Open Mic with five minute limits and begin passing the Composition Book. We will close out the evening with a reading of the piece that we have all written together. Free Event.
19th: Lee Wilson, 7 p.m. Local favorite Lee Wilson performs contemporary, R&B, Pop and country favorites. No Cover Charge.
20th: Blue Moon Jazz featuring John Van Dyke All Pro Jazz Jam, 8 p.m. Join us for an evening of Jazz Standards with some of Eastern Carolina's finest players. If you've got the chops bring your instrument of choice and join in the fun. Chef Josh Storts will be composing the perfect accompaniments for the evening. $7 Cover Charge.
21st: Madame Z's Pride Night, 9 p.m. Madame Z and The Pollock Street Drag Divas are at it again. Bringing you a dance party and a show you'll never forget. The crowd is always diverse and fun loving and the mood is sublime! This month we will celebrate Madame Z's Birthday. $8 Cover Charge.
25th: Improv Comedy Fun, 7 p.m. An exciting and fun workshop evening run by Live's very own master improvisers, Kimberly and Jody Bledsoe! You'll learn some of the basic games and simple rules and you'll enjoy a hilarious evening of fun with your friends. Free Event.
28th: Improv Comedy Night, 8 p.m. Audiences are part of the show! Give us your suggestions and watch us create hilarious unscripted scenes right before your eyes! This month featuring Walk in Bathtub, New Bern's own Improv Team! Tickets $7.
For more information, call 252-876-7007 or visit The City Laundry at 901 Pollock St.
Submitted by: John Van Dyke, The City Laundry