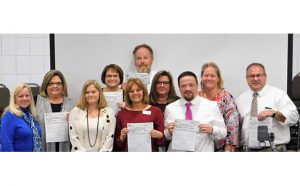 The Board of Directors of Craven County Partners In Education recently announced the winners of the Spring Cycle PIE Grants. PIE Grants are an expression of faith in and support for teachers who are searching for educational opportunities which make an immediate impact on the lives of students and that have the potential of encouraging long-range growth in educational performance. The school principals accepted the checks on behalf of their teachers at the February Monthly Principals' Meeting. A total of $10,661 was awarded.
The winners are:
Spring Cycle
– Camping with Critters, $904.83 – Diane Bondurant, James W. Smith Elementary
– Learning Through Virtual Reality with Near Pod, $1,490.23 – Kellie Barnford, Havelock Elementary
– Robotics with Dash & Dot, $1,494.95 – Shelia Cayton, Bridgeton Elementary
– School Climate Transformation, $1,324.93 – Amy Haskins & Susan Heiman, W.J. Gurganus Elementary
– Stepping Up Advisor/Advisee Time, $1,194.00 – Sara Foster, Havelock Middle
– PE Redbox, $1,391.86 – Megan Davis & Jason Philipps, Brinson Memorial Elementary
– Music Across the Speedrum!, $1,383.03 – Lauren Smith-Mayberry, W.J. Gurganus Elementary
– Music, Math & Literacy with Orff, $1,477.15 – Blair Dyal, Roger Bell Elementary
– MiniLabs for Maximum Biotechnology Impact, $1,500.00 – Dr. Kelsey Gilliam, Havelock High
For information on how you or your organization can support Craven County Schools through Partners In Education, contact Darlene Brown at 514-6321 or visit our website at CravenPartners.com.
Submitted by: Darlene Brown, Partners In Education