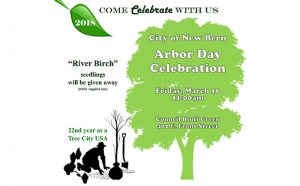 New Bern Parks and Recreation will be having an Arbor Day Celebration on Friday, March 16th at 11:00 a.m.  This event will take place at Council Bluff Green, located at 402 East Front Street in New Bern.
As part of the celebration, the City will be awarded the Tree City USA designation.  New Bern is one of 86 cities and towns in North Carolina and one of over 3,400 in the nation to receive this recognition, which also marks the 22nd year that New Bern has earned this national designation.
During this event, a Shumard Oak will be planted.  River Birch seedlings will also be given away, while supplies last.  The public is encouraged to attend.
In 2017, New Bern accomplished four required criteria to maintain status as a Tree City USA:
– Maintaining a public tree ordinance, which establishes policies for managing street and park trees.
– A Tree Board and a city department responsible for the care and management of the community's trees.
– A community forestry program with an annual budget of at least $2 per capita. and
– An annual Arbor Day observance and proclamation to celebrate trees and the many benefits they provide.
For additional information on the master plan process, please contact Foster Hughes, Director of Parks & Recreation at 252-639-2915.
Submitted by: Foster Hughes, New Bern Parks & Recreation