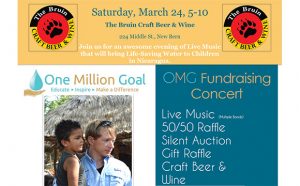 Please join One Million Goal for an evening of fun, celebration, and fundraising for a great cause!
Saturday, March 24th, from 5 – 10 p.m., The New-Bern-based nonprofit, One Million Goal, is hosting an event at The Bruin Craft Beer and Wine at 224 Middle Street.  There will be live music provided by local bands, a 50/50 raffle, silent auction and more that you can enjoy while sipping on your favorite craft beverage.
The purpose for this event is to help One Million Goal with their mission to provide safe, clean drinking water to communities around the world.
Water is one of life's most critical resources. Even with the seed, the soil, and the sunshine, the miracle of life cannot begin until you add water. Unfortunately, nearly 700 million people around the world suffer because they don't have reliable access to this basic need. And those without safe, clean drinking water suffer a multitude of issues as a result.
Worldwide, an estimated 2,000 people die every single day, and nearly half the hospital beds around the world are full of patients suffering because of a lack of access to water. Fortunately, people are taking notice of this terrible issue and tens of thousands of people are joining the fight to help bring water to every man, woman, and child in the world.
One Million Goal, Inc. is one organization making a difference in this cause. Since 2014, this organization has funded or provided nine water projects around the world. Combined, these projects now provide reliable, safe, clean drinking water for nearly 5,000 men, women, and children.
A recent focus for One Million Goal has been to provide water solutions to serve school children in Nicaragua. Throughout Nicaragua, an estimated 900,000 people live without reliable access to safe water. Some cannot access water; many have access to water that has been contaminated with harmful sediment, bacteria, or parasites. During two previous trips to Nicaragua, One Million Goal employed a few simple, yet effective solutions for contaminated water and have already helped nearly 3,000 Nicaraguans overcome this harsh reality.
This April, One Million Goal (OMG) is sending a team of volunteers to a community outside Managua, Nicaragua to provide a safe water solution to more than 1,000 children who are currently at risk.
During a one-week trip, OMG workers plan to install a combination sediment filtration/ultraviolet purification system at three rural schools outside Managua. This solution helps clean sediment, debris and harmful contaminants from the water, then purifies the water with ultraviolet light to ensure it is safe for children to consume.
"We are working with a local partner in Nicaragua to identify two schools that are ideal for this application. The project schools will be selected based on: a need for purification, application feasibility, ability to maintain the unit, the number of children served, and proximity to a population density that can benefit from the school's reliable water," says One Million Goal's founder, Garret Biss.
The project budget for this trip is $7,500. This amount will provide for the cost to install three complete water systems that can serve between 500 and 1,000 children each.
OMG can do a lot to help those in need but can't do any of it without the help of generous donors. To find out more, please visit OneMillionGoal.org.
If you would like to show your support and help OMG with this cause, show up on the 24th and please make a donation at Paypal.me/onemilliongoal.
Submitted by: Garret Biss, Founder, One Million Goal