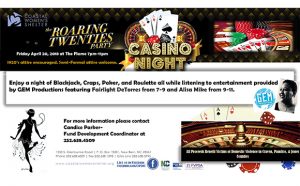 Coastal Women's Shelter is pleased to announce our first Roaring Twenties Casino Night! This event will take place Friday, April 20 at The Flame Catering and Banquet Center from 7 pm – 11 pm. Tickets are $75.00 (Includes a substantial funny money package, drinks, heavy hors d'oeuvres, entertainment, silent auction, safe ride home, and much more)! Enjoy a night of blackjack, craps, poker, and roulette all while listening to entertainment provided by GEM Productions featuring Fairlight DeTorres from 7 – 9 and Alisa Mike from 9 – 1. 1920's attire encouraged, but semi formal attire is welcome!
Tickets can be bought online at CoastalWomensShelter.org under the "events" section or in person at our office located at 1333 S Glenburnie Rd., New Bern. All ticket purchases, donations, and sponsorship's are tax deductible. Our Safe Ride Home will proudly be provided by Chevrolet, Lincoln, and Volvo of New Bern.
Coastal Women's Shelter is the sole provider of no-cost comprehensive domestic violence services in Craven, Jones, and Pamlico counties. Our organization provides a comprehensive range of services to members of the community who are affected by domestic and family violence: a 24-hour crisis line, court advocacy, monthly support groups for women and children, transportation, tuition assistance, clothing, food, employment resources, children's art therapy, housing assistance, and interagency information and referrals. Our vision is to eradicate domestic violence in the counties that we serve. Our mission is to help families break the cycle of domestic violence and acquire the skills necessary to promote healthy family relationships. Last year, your support helped make the following possible:
Over 550 men, women and children served
Over 2,000 crisis line calls
Over 5,000 meals
The real impact of your gifted dollars:
$20 = 5 meals
$50 = 2 months of prescriptions
$100 = 10 days of safe shelter
Give the gift of safer tomorrow.
Donate to Coastal Women's Shelter today and join us for our Roaring 20's Casino Night!
Here is the link to Casino Night: CoastalWomensShelter.org/news–events.html
Submitted by: Candice Parker, Fund Development Coordinator, Coastal Women's Shelter