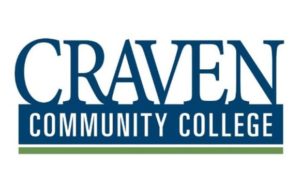 Craven Community College (Craven CC) will host Spring Open House Tuesday, March 27 to showcase educational programs and offer academic advising for potential students. This free event will occur at the New Bern Campus from 5:30-7:30 p.m.
"Our goal is to always help people realize their fullest potential," said Gery Boucher, Craven CC vice president for students. "Sometimes we are the first step for someone transferring to a university and other times we provide technical skills that prepare people to move right into the workforce with a great paying job. We hold this event to let our community know that options are available to them and those options often begin with us."
More than 100 learning opportunities are available at Craven CC. Some of the programs represented during Spring Open House include University Transfer, Career Programs, Health Programs, Workforce Development, Campus Life and more.
Academic, admissions and financial aid advisers will be on-site to all answer question about the application and the admissions process at Craven CC. The advisers will help future students apply to Craven CC, the free application for Federal Student Aid (FAFSA) and other scholarships.
This free event will take place in the Student Center, located on the New Bern Campus at 800 College Court.
For more information call 252-638-7200 or visit CravenCC.edu.
Submitted by: Craig Ramey, Director of Communications, Craven Community College