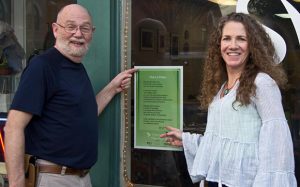 This spring, poetry will bloom in select New Bern storefronts as a statewide program, Poetry in Plain Sight, comes to Eastern North Carolina.
Originally launched in Winston-Salem in 2013, Poetry in Plain Sight brings poetry to the community through broadsides posted in storefront windows. Beginning March 1, twelve businesses in New Bern will display posters featuring original poems submitted by North Carolina authors. New posters featuring different poems will be showcased each month throughout 2018.
Two local poets, Suzannah Cockerille and Sam Love, are among the first to have their poems in the windows of downtown New Bern. Participating restaurants and merchants are Captain Ratty's, MJ's, Four C's, Hopeful Balance, Bank of the Arts, Bebop's Cafe, Trent River Realty, Chamber of Commerce, Ballantyne Framing and Art, Trent River Coffee Company, Mitchell's Hardware, and Juliette's Boutique.
The program's goals are to bring poetry to a wider audience and to support North Carolina poets, according to Donna Wallace, president of the Winston-Salem Writers Group. This year, New Bern in the east and Waynesville in the west were selected by Poetry in Plain Sight coordinators as they took the program statewide.
"These cities were chosen for our expansion because they have active arts and entrepreneurial communities," Wallace said. "We are excited to have New Bern pave the way for our statewide expansion to bring more awareness to North Carolina poetry."
The featured poems were selected last fall by an independent panel. In addition to Cockerille and Love, local poets whose work will be displayed on posters statewide during 2018 are Diane de Echeandia, Robert Golden, and Jeanne Julian of New Bern; Evie Chang Henderson and Wendy Osserman of Oriental; and Jo Ann Hoffman of Beaufort.
"We hope our poetry will inspire and entertain, and highlight the beauty, power, and diversity of our shared language," said Julian, who is among the volunteers coordinating New Bern's Poetry in Plain Sight launch. "We especially encourage teachers and students to explore poetry through the posters."
Poetry in Plain Sight is a collaborative effort of Winston-Salem Writers, The North Carolina Poetry Society, and Press 53. It is endorsed by the Downtown Arts District Association of Winston-Salem.
For more information, or to arrange an interview with a local poet, contact Jeanne Julian at 252-497-1004.
Submitted by: Jeanne Julian