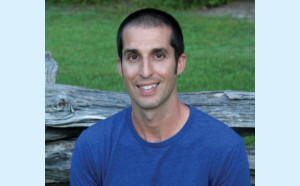 Novelist Joey Jones will host the Raleigh Parks Read & Go Book Club in New Bern, North Carolina, the setting of his highly acclaimed novel A Bridge Apart. A group from the book club, which has an impressive three hundred members, will load a bus in Raleigh on March 21, 2018 and head to New Bern to visit with Joey Jones and tour scene locations from his book such as Union Point Park, Pepsi Store, Baker's Kitchen, and Middle Street. After walking through historic downtown, and along the gorgeous waterfront, the group will enjoy a talk from Joey Jones as they savor a taste of New Bern during a private lunch at Baker's Kitchen.
Jones is the author of three novels: A Bridge Apart (2015), Losing London (2016), and A Field of Fireflies (expected to release March 2018). Each of Jones' novels are set in quaint Eastern North Carolina towns. Joey Jones' writing style has been described as a mixture of Nicholas Sparks, Richard Paul Evans, and James Patterson. The ratings and reviews of A Bridge Apart (4.7/5.0 Amazon Stars) and Losing London (4.8/5.0 Amazon Stars) reflect the comparison to the aforementioned New York Times bestselling authors. Jones has become a popular guest speaker throughout North Carolina and beyond. His novels have traveled to every state within the United States as well as many other countries. Joey Jones said, "I am thrilled that the Raleigh Parks Read & Go Book Club will be visiting New Bern. It's exciting to know that readers want to visit the places where my novels are set, especially my hometown."
About Joey Jones
Joey Jones is the author of the highly acclaimed novels A Bridge Apart, Losing London, and A Field of Fireflies. Over 10,000 copies of Jones' suspenseful love stories have sold via print and e-book. The author's novels are set in North Carolina, where he and his family live. Meet Joey and learn more about him and his writing at Joey-Jones.com.
Submitted by: Joey Jones