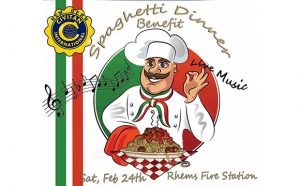 The New Bern Civitan Club presents a Spaghetti benefit Dinner on Saturday, February 24th from 4:30 p.m. – 7:30 p.m. at Rhems Fire Station locate at 5860 Hwy 17.
Enjoy spaghetti, meatballs, salad, Italian bread, and dessert!
Ticket cost is $10. Prearranged takeout is available.
All proceeds to benefit the New Bern Civitan Club's sponsored charities: Craven County Special Olympics, MERCI Clinic, Santa Land for Children, Ramp building program, and more!
For details, call Tommaso Serra at 252-204-3068.
Submitted by: Amy Willis