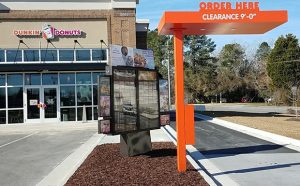 Grand Opening Celebration to Include Free Travel Mug and Donut Offer
Dunkin' Donuts today announced the grand opening of their new restaurant in New Bern at 2000 S. Glenburnie Road, Suite 230 on Friday, February 2nd. To celebrate, the first 500 customers will receive a free travel mug and donut with any purchase.
The new Dunkin' Donuts in New Bern will keep people energized with the brand's beverage offerings including high-quality, freshly-brewed Hot and Iced Coffees, Cold Brew and Rainforest Alliance Certified™ Dark Roast, along with a Rainforest Alliance Certified™ espresso lineup that includes Americano, Cappuccino, Espresso, and Hot and Iced Lattes and Macchiato. Dunkin' Donuts will also serve a full menu of Premium Hot Teas, delicious donuts, bakery goods and sandwiches that pair perfectly with the brand's coffee beverages. All Dunkin' Donuts menu items are available any time of day, and guests are encouraged to customize their favorite food and beverages.
The new restaurant will be open from 5 a.m. to 11 p.m., seven days a week and will employ approximately 25 crew members. It will have comfortable seating and provide a welcoming environment for guests to enjoy Dunkin' Donuts' high-quality coffee beverages in a friendly atmosphere. The new restaurant will also offer free Wi-Fi, televisions, a conference room and outdoor seating.
With Dunkin' Donuts' On-the-Go Ordering, members of the DD Perks® Rewards Program can order in advance using their mobile phone, speed past the line and go straight to pick up when they get inside the store. Guests can also pick up their mobile order at the drive-thru. Guests can place a mobile order up to 24 hours in advance, then simply confirm via the Dunkin' Mobile app when they are at the restaurant and ready to pick up their order.
Safari Foods is the Dunkin' Donuts franchisee for the new restaurant in New Bern and currently operate 6 Dunkin' Donuts restaurants in eastern North Carolina. "Dunkin' Donuts is one of the world's leading brands and has become a favorite in North Carolina for keeping busy, on-the-go people energized with delicious coffee, food and other beverages any time of day," said Gray Daughtridge of Safari Foods. "We are proud to serve the people who live and work here and look forward to becoming a popular destination for guests."
Dunkin' Donuts is America's favorite all-day, everyday stop for coffee and baked goods, selling more than 1.9 billion cups of hot and iced coffee and espresso-based beverages per year and approximately 2.8 billion donuts and MUNCHKINS® donut hole treats combined globally per year. Today, there are more than 12,200 Dunkin' Donuts restaurants worldwide in 45 countries, including more than 8,800 Dunkin' Donuts restaurants across the U.S. and more than 3,400 international restaurants.
To learn more about Dunkin' Donuts, visit DunkinDonuts.com or subscribe to the Dunkin' Donuts blog to receive notifications at News.dunkindonuts.com/blog.
Submitted by: Drew Porcello, PivotPR