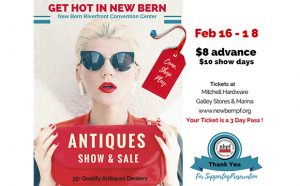 February 16 – 17: 10 a.m. – 5 p.m.
February 18: 11 a.m. – 4 p.m.
This is the New Bern Preservation Foundation's biggest single moneymaker for operations and we hope to grow the show from over 1,700 last year to 2,200 this year.
It's on what you might call Valentine's weekend and tickets make a great Valentine's present along with something else like chocolate or wine.
Dealers love the show and come from as far away as New York and Florida. Items range from fine jewelry and antique clothing to vintage toys to military heritage items to fine old beer steins. Everything must be at least 50 years old, so the range is from the 1700s to the 1960s.
Tickets are easily available at two locations: Mitchell Hardware and the Galley Stores & Marina for $8 per person or you can buy them through our online concierge at NewBernPF.org or you can purchase them the days of for $10 at the door. For families, children under 15 with an adult are free.
Submitted by: Larry Rosenstrauch, President, New Bern Preservation Foundation