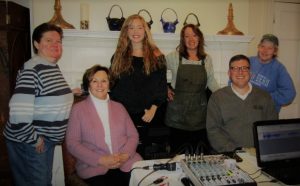 Episode 85
Find out the latest information about our beautiful and happening town of New Bern and Beyond. Beyond, meaning our travels throughout Eastern North Carolina.
During this show, New Bern Now's Podsquad: Laura Johnson, George Oliver, Susan Moffat-Thomas, and I talked about all kinds of positive things happening in our community of New Bern, NC and beyond!
Listen to our podcast show here:

If you didn't know, The Podsquad meets every other Thursday to record the bulk of the podcast. We also do phone interviews throughout the week and insert the recording into the next podcast and if it's a non-profit or event interview, it also airs on New Bern's News Talk Radio Station WNOS 107.5 FM.
Show notes:
00:43 – Catching up with the Podsquad
1:50 – Adult Enrichment Program Update
4:52 – Strenth Lies in Differences, not similiarities" – Steven Covey
5:27 – Debbie Knight stopped by to pick up her prize from our Contest
6:18 – Katie Cusack, Founder and President of Students for Justice joined us to talk about human trafficking awarenes
27:10 – International Film Series: A Man Called Ove
28:30 – Bonnie and Clyde Musical
29:11 – Holy Yoga Experience
29:47 – Tryon Palace Garden Lecture Series
30:04 – Historian Ed Bearrs Lecture: "Had I Been a Civil War Soldier"
31:00 – Strung Together Band performs at Harvey Mansion
32:00 – Nexus Poetry Open Mike Night featuring Poet Sam Love
32:45 – Behind the Scenes: Museum Technology Tour
34:15 – Lunch and Learn: New Bern's Lebanese Community and Pollock Street Corridor with Dr. Katherine Adolph and Tony Salem
37:36 – Palace Pours: History After Hours – New Year's Resolutions
38:10 – ArtWalk and ARTcrawl
38:25 – Uncorked – A Wine Tasting
38:35 – Potter's Throwdown 2018
39:48 – Eileen Bress appointed new Director of the Craven Arts Council and Gallery
40:10 – Dennis Warner in Concert
40:49 – New Bern Heart Ball
Tune into our latest Podcast episodes and radio interviews on ITunes.
We'll be back on January 15, 2018.
Special thanks to Lisa Bisbee-Lentz and Mike Lentz for letting us record in the Isaac Taylor House!
Please let us know if you have any comments, suggestions, or would like to set up an interview and spread the word about a special event or other interesting topic. You can contact us by sending an email or by calling 252-638-6858.
Wendy Card