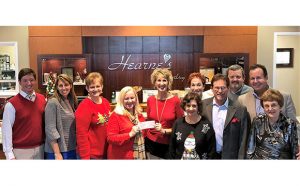 Who made PIE sparkle during the holiday season?
The staff at Hearne's Fine Jewelry presented a check to PIE for $2,050 from our Trunk Show Partnership.
The monies donated by Hearne's Fine Jewelry will be used to support the grants and programs offered by PIE.
If you would like to learn how your organization can make a difference through Craven County Schools' local education foundation, Partners In Education (PIE), contact Darlene Brown, executive director, at 252-514-6321 or visit PIE's website at CravenPartners.com.
Submitted by: Darlene Brown