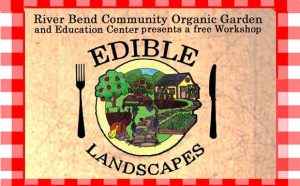 The River Bend Community Organic Garden and Education Center announces its free January workshop, Edible Landscape Gardening. The presenter, Carteret County Extension Director, Shawn Banks, holds a degree in Horticulture from NC State.  A passion his career has allowed him to pursue, Shawn describes his immersion in gardening, which includes vegetables, berries and fruit trees, that goes back to his early childhood.  Shawn says, "Edible plants are not just for vegetable gardens."  They can be incorporated into any garden or landscape, and he will share his creativity in "thinking outside the box", describing aspects of growing edible plants that you may never have considered.
The session is scheduled for Tuesday, January 9th at 6:30 pm at River Bend Town Hall, 45 Shoreline Drive.
This workshop is recognized for continuing education credit for master gardeners.
Following the workshop, a tasty and healthful selection of refreshments will be served. Healthy food can be delicious.
Recent workshops have been filled to capacity. Reservations are strongly recommended. Contact Dee Smith at 634-3192 to reserve a space.