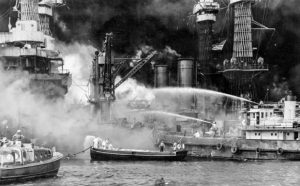 Ceremony to be held on Thursday, Dec. 7 at the N.C. History Center
Tryon Palace will commemorate the attack on Pearl Harbor with a remembrance ceremony on Thursday, Dec. 7 at 11 a.m. This free program is open to the public and will take place in the Cullman Performance Hall, located inside the North Carolina History Center.
This event commemorates the 76th anniversary of the day Japanese airplanes attacked the United States Naval Base at Pearl Harbor in 1941. More than 2,300 Americans died during the attack that officially began the United States' involvement in World War II.
The program will include a color guard presentation from the Marine Corps League, Cherry Point Detachment, performances by the 2nd Marine Aircraft Wing Band, and a keynote address from retired Maj. Gen. Tom Braaten. A commemorative wreath will be displayed in Mattocks Hall, which is also located at the North Carolina History Center.
For more information call 252-639-3500 or visit TryonPalace.org.
Upcoming events at Tryon Palace include:
December 9: Seasons of Giving: A Candlelight Christmas Celebration (Night One)
December 11: Holiday Decor Behind the Scenes
December 12: Behind the Scenes: Conservation Lab
December 14: Christmas and Classics, A Concert by Pianist Sharyn Edwards
Submitted by: Chelsea Payne, Marketing Specialist, Tryon Palace