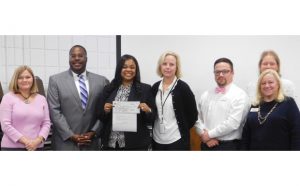 In order to advance and support programs for science in Craven County Schools, Dr. Meghan Doyle, Craven County Schools Superintendent, offered a grant to all Craven County Schools high school science teachers.  The focus of the Super Science Grant is to increase science achievement through direct services to the students.
The winner was announced at the Craven County Schools End-of-Month Principals' meeting, Thursday, November 30. The winner is Ashlee DeCamp at New Bern High School.
Pictured with Dr. Doyle is Assistant Principal Roneca Wallace accepting the grant on behalf of her school from PIE board representatives, Sandy Carlaccini, Ervin Patrick, Ms. Wallace, Dr. Doyle, William Byland, Debra Hurst, and Darlene Brown. Congratulations, Ms. DeCamp!
If you would like to learn how your organization can make a difference through Craven County Schools' local education foundation, PIE, contact Darlene Brown, Executive Director, at 514-6321 or visit our website.