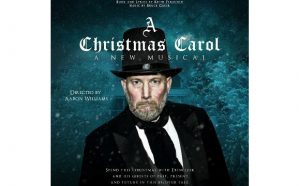 Raleigh Resident and New Bern Native, Aaron Williams, puts the spirit of Christmas in the hearts of local residents.
"Bah Humbug" will be the last thing on the mind of anyone who sits in the audience of the all new showing of "A Christmas Carol" the musical production featured at the Rivertowne Players Masonic Theatre. The show's director, Aaron Williams, shares that this was a passion project of his after reading the script.
"When I first saw the songs being featured in this play, I knew that it was something that I could get behind. The inspiration of it all stood out to me immediately".
Aaron, who has had a love for theatre since the age of 4, has not only been inspired by the message of the production, he has also inspired the actors taking part in this show as well.
"Usually your parents will say, 'Ohhh, what a wonderful job', no matter how you perform! But not with Aaron. He is very honest and it helps us to perform even better by getting that feedback." said Shannon Wetherington, who is playing the role of the spirit of the future in the play.
"The underlying theme is that of transformation", according to Bill McCarthy, who will be playing the lead role of Scrooge. He came into the role after a casual nudge from his daughter, Isabella McCarthy, saying that he should audition for the play. He had no idea at the time that he would be responsible for bringing to life one of the most iconic characters in a muched loved Christmas story.
"A Christmas Carol, A New Musical," opened Dec. 1st and runs thru December 17. tickets are available online at Showtix4u.com (search New Bern). A production of this type has never been done before in this area and it is sure to bring the Christmas spirit out for everyone that attends.
For more information contact: Cheryl McCarthy at 540-808-3409.