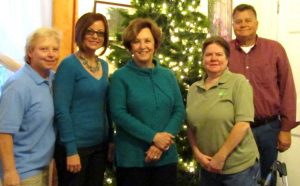 Find out the latest information about our beautiful and happening town of New Bern and Beyond. Beyond, meaning our travels throughout Eastern North Carolina.
During this show, New Bern Now's Podsquad: Susan Moffat-Thomas, Rich Sheridan, Colleen Roberts, and I talked about all kinds of positive things happening in our community of New Bern, NC!
Listen to our podcast show here:

If you didn't know, The Podsquad meets every other Thursday to record the bulk of the podcast. We also do phone interviews throughout the week and insert the recording into the next podcast and if it's a non-profit or event interview, it also airs on New Bern's News Talk Radio Station WNOS 107.5 FM.
Show notes:
00:32 – Catching up with The Podsquad
1:47 – This Podcast is brought to you by the Craven Animal Hospital "Where we treat your pets as part of our family". Join them on December 10th from 1 – 3pm for Pet Pictures with Santa. Give them a call at 252-637-4541 to schedule an appointment and let them know how many pets you'll be bringing. For more information, visit them at 4603 Old Cherry Point Rd. or visit their website at CravenAnimalHospital.com.
3:13 – 1st Quarter Ledger Magazine (Jan – Mar) Edition – submission deadline is December 18th.
3:45 – 'Tis the Season in New Bern!
4:55 – City of New Bern involvement in Beary Merry Christmas
7:21 – Visit to Andrea Owens' – The Red Shoe Studio Gallery
8:16 – Shopping in and around the Greater New Bern area
10:13 – Down East Dog Park at Glenburnie Park
11:01 – Special thanks to the City of New Bern Workers
11:29 – New Parks and Recreation Director Foster Hughes
12:29 – New Bern and Craven County Parks in and around town
13:10 – New Bern Civil War Battlefield Park
14:09 – Martin Marietta Park
16:11 – December 12th at 7pm – Board of Alderman Meeting Swearing In and Oath of Office Ceremony of New Aldermen
16:49 – Paving, Sidewalks, and the Train Depot progress
17:30 – Adult Enrichment Program updates
18:07 – Daytrippin' with Rich Sheridan, Crystal Coast Discovery Map
Santa by the Sea "Whispered Wishes among the Fishes"
Morehead City Christmas Parade
5th Annual Crystal Coast Hospice House Gingerbread Festival
7th Annual Beaufort Holiday Artwalk
20:55 – Upcoming Events. These are only events until the next podcast. Visit our Community Calendar for a list of events happening throughout the Greater New Bern area as we update NewBernNow.com  every day and you can see events listed thru March 2018!
33:04 – "Fill a Fire Truck" Food Drive presented by New Bern Fire-Rescue
35:58 – Parking Recommendations (not approved) from the Board of Alderman and  The City is taking public input on parking recommendations during the 1st Board of Alderman Meeting on January 9th at 7pm
42:15 – City of New Bern Enforcing Fire Lanes
43:34 – "Click it or Ticket" Seatbelt Campaign
Tune into our latest Podcast episodes and radio interviews on ITunes.
We'll be back on December 18, 2017.
Special thanks to Lisa Bisbee-Lentz and Mike Lentz for letting us record in the Isaac Taylor House!
Please let us know if you have any comments, suggestions, or would like to set up an interview and spread the word about a special event or other interesting topic. You can contact us by sending an email or by calling 252-638-6858.
Wendy Card