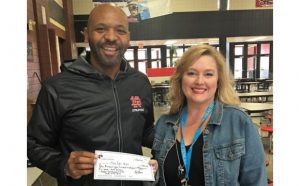 Partners In Education recently awarded Gwen Goodman, MOT OTR/L, at New Bern High, $1,494.48 for her Fall Cycle PIE Grant titled, "ROCK! Collaborate and Listen-Glide, Glide Baby."
The awarding of this grant provides funding for exceptional students in the adaptive curriculum to collaborate with students from Unified Champion School Club to sand and paint alternative-seating, heavy-duty rockers.
This project will foster skill development as well as camaraderie between diverse groups to support and improve learning. Once completed, students will glide along as they journey through teacher-led stories about history, observe and learn about the weather during a science lesson and practice counting. The gliding motion provides exceptional students with calming, sensory input to help organize and engage brains and bodies to be ready to learn.
For more information on how you can contribute to the PIE Program, contact Darlene Brown at 514-6321.
Submitted by: Darlene Brown, Craven County Partners in Education