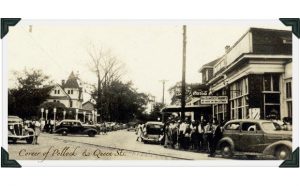 Historical Society's Lunch & Learn – January 10
In another "Did You Know?" opportunity, the New Bern Historical Society brings Dr. Katherine Adolph and Tony Salem to their January Lunch & Learn. You didn't know about the Lebanese community in New Bern?  Come to the first Lunch & Learn of 2018 on January 10 at The Chelsea at 11:30 am and find out!  They will discuss Lebanese immigration in New Bern in the beginning of the 20th Century, the evolution of the Lebanese community and its impact on the local economy and our neighborhoods including Pollock Street.  Drawing from Tony's personal history growing up on the Pollock Street Corridor and Kathy's extensive research, they will share images of Pollock Street in the 1930s and '40s, discuss the decline in the corridor and current plans for revitalization.
Tony Salem is a New Bern native and a graduate of UNC-Chapel Hill.  He has been a practicing CPA since 1975 and is currently managing partner of A.G. Salem & Associates, PLLC. He is married to Tresie Hatem Salem who is also a New Bern native.
Dr. Katherine Adolph finished a 30-year career as an educational administrator in Denver prior to moving to New Bern in 2005.  Kathy and her husband Peter formed Bern Investment Group, Inc. shortly after their arrival in New Bern. She is president of the corporation and is currently devoting her time to New Bern's revitalization efforts along the gateway corridors to downtown.
Lunch & Learn starts at 11:30 a.m. at The Chelsea Restaurant, 335 Middle Street, New Bern. The cost is $18 for Historical Society members and $20 for non-members; lunch is included. Advance reservations must be made by calling the New Bern Historical Society at 252-638-8558, or can be ordered at NewBernHistorical.org/tickets. Lunch choices are: Beef Tenderloin Shoulder with Cabernet Demi-Glace Brown Butter Barbecue Chicken.
The mission of the New Bern Historical Society is to celebrate and promote New Bern and its heritage through events and education.  Offices are located in the historic Attmore-Oliver House at 511 Broad Street in New Bern.  For more information, call 252-638-8558 or go NewBernHistorical.org or Facebook.com/NewBernHistoricalSociety.
Submitted by: Kathy Morrison, New Bern Historical Society