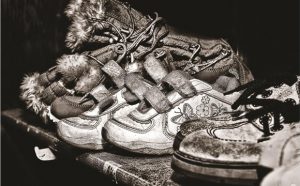 Exhibition highlighting the effects of poverty on our community at Bank of the Arts
January 4 – 13, 2018
Craven Arts Council & Gallery is proud to present "Hunger and Poverty:  A Shared Responsibility & Promise" in the Main Gallery at Bank of the Arts from January 4th to the 13th. This exhibition is on display as part of the Potters' Throwdown, January 12th, from 5pm-8pm. The Throwdown and exhibit help to highlight the importance of the New Bern Empty Bowls event in our community.
This black and white photography exhibition by Bill Lease highlights the role poverty and food scarcity play in Craven County. This exhibit will be on display January 3rd thru the 15th, with a reception during the Potters' Throwdown on January 12, from 5pm to 8pm.
Commissioned by the Craven Arts Council in 2010, "Hunger & Poverty" shows not only the effect of hardship on our communities, but the role that religious Community Services, Craven Arts Council & Gallery, and their joint Empty Bowls event plays in fighting these effects. The exhibit casts the stark, unblinking eye of the camera on the issues facing our community, but offers hope and a call to action through recording the work of volunteers, donors, and the individuals directly affected by it.
For more information please contact Jonathan Burger, Marketing and Gallery Director, Craven Arts Council & Gallery, Inc. at the Bank of the Arts, 317 Middle St., New Bern, 252-638-2577
Submitted by: Jonathan Burger