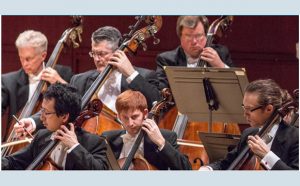 Saturday, February 3, 2018 | 7:30PM
New Bern Riverfront Convention Center, 203 S Front St.
Explore the beauty and depth of expression in music for string orchestra. The joyful Serenade for Strings echoes the happiness Dvořák was enjoying as a newlywed and new father. Enjoy the high-energy rhythms of Kilar's nature-inspired Orawa and a jaunty work by Jennifer Higdon (recently named one of the top-35 female composers of all time by The Washington Post)—plus, hear the world premiere of a new concerto by composer and longtime NCS musician Terry Mizesko.
Grant Llewellyn, conductor
Leonid Finkelshteyn, bass
Tickets may be purchased in person at the Riverfront Convention Center, by phone at 877.627.6724, or online at NCSymphony.org. For more information visit the Event Page.
Submitted by: Sara Dobson, Statewide Coordinator, North Carolina Symphony