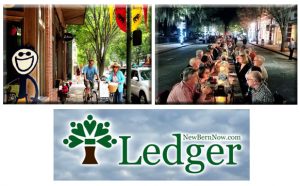 The deadline is approaching for your chance to reach thousands of local readers and visitors to the Greater New Bern area!
Although you may be preoccupied with the Holidays, if you're planning an event for January thru March 2018, now's the time to send us the details to be included in New Bern Now's 1st Quarter Ledger Magazine.
We are also accepting community information from non-profits and businesses. Although we can't guarantee that it will be included in the Ledger, we will do our best to publish your announcement in the community notes section.
If you have a new business, please send us the details and we'll include it in the business section.
It's a free community service for us to publish announcements.
The Ledger is considered New Bern's "People's Magazine" as information is provided from the people who live here. You'll find out the latest information from our local non-profits and business. It's a content rich publication where you'll also find an extensive calendar of events, community notes, arts, outdoor recreation, history and much more!
You can also reach future customers/clients and support our efforts by becoming an advertiser or sponsor. We offer very affordable opportunities like no other! Check out our new 2018 Media Kit for details.
It's available at local businesses and non-profits throughout the greater New Bern area including Fairfield Harbour, River Bend, Carolina Colours, Downtown, around town and beyond! It's also available online here.
Special thanks to everyone who have supported NewBernNow.com and Ledger Magazine. Especially to our advertisers as we couldn't afford to publish the magazine without your support.
The deadline for submission is December 18th.
Please let us know if you're interested in supporting our efforts by calling 252-638-6858 or sending an email.
We look forward to helping spread the word about the latest happenings throughout the greater New Bern area!
Keep up with the latest happenings by submitting your email address in the right margin on New Bern Now's website. Please know that we don't sell or share your email address with anyone and if you submit your email address, you will receive a daily email of the latest articles published in a 24 hour period.
Thank you,
Wendy Card