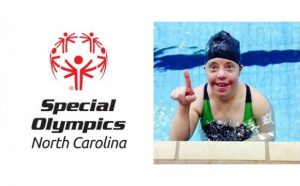 The Craven County Special Olympics will be having their 2nd Annual Polar Plunge on Saturday, January 20th at Courts Plus' outdoor pool at 2911 Brunswick Ave. in New Bern.
More than 300 athletes participate in local and state level competitions in Olympic-type sports such as bowling, basketball, swimming, equestrian and more.
This is a fund raising event for Craven County Special Olympics  and your participation will help  ensure that Special Olympians in our community will continue to have the opportunity to compete.
The entry fee to Plunge or Dip is $25, under age 18 is $12 with parental permission required and Special Olympians plunge for free. If you don't want to take The Plunge, Dipping is an option – even just your big toe!  All Plungers and Dippers who pre-register will get a free T-shirt. You can pre-register on line at FirstGiving.com/sonc/cravenplunge2018. On-site registration begins at 9 am. Plungers and Dippers will be Freezin' for a Reason beginning at 10 am.
For more information contact Steve Aster at 252-636-6606.
Submitted by: Pat Drake