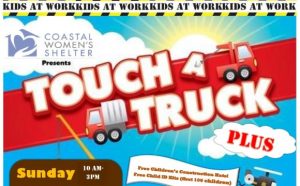 November 19th
Put your imagination in gear and go! Join us for our Touch A Truck Plus event, where kids get a chance to get behind the wheel and rub elbows with their hometown heroes. Come climb on and explore on your favorite equipment including helicopters, fire engines, military vehicles, farm equipment, construction trucks, boats, and much more. If you are receiving this email, you are personally invited to join Coastal Women's Shelter's Touch A Truck Plus event and we would love to have you! If you have not already filled out your equipment/vendor registration form, please contact us.
Touch a Truck Plus is an educational community event that will provide children with a hands on opportunity to see and touch heavy machinery and meet the people who build, protect and serve the Pamlico and Craven community. We will have bounce houses, face painting, vendors, crafts, demonstrations, and food trucks available for attendees as well.
Featuring:
Vendors
Non Profit Agencies
Civic Groups
Pamlico High School Cheer Team
American Red Cross
North Carolina Vietnam Helicopter Pilots Association
Children's Face Painting
Rock Climbing Wall
Bounce Houses
Children's Crafts
Free Child ID Kits
Free Plastic Children's Construction Hats
Police Demonstrations with our favorite drug busting pooches
Trucks, Trucks, Trucks!
Fill The Truck Canned Food and Toy Drive
Boats
Animal Adoption Drive
Military Equipment
Tractors
Whats For Lunch? Come and check out Craven and Pamlico's favorite food trucks such as Jitterzz Food Truck, Nest Cafe on Wheels Food Truck, Surf Shack Food Truck, Urban Street Eats Food Truck, La Cocina Del Coqui Food Truck, and more!
Admission is a $5 donation per family at the gates.
Rain Date: Sunday, December 3
Location: Pamlico Community College
We want to give a special thank you to our supporting agencies and business'. It's your heavy lifting, or shall we say equipment and participation, that is making this community event possible!
For more information visit us on facebook or check us out at CoastalWomensShelter.org.
Submitted by: Candice Parker, Fund Development Coordinator, Coastal Women's Shelter