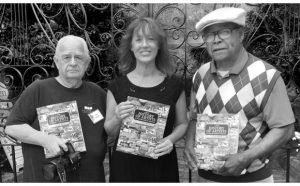 On Friday, November 10, 2017, the ArtCrawl will take place at The Greater Good Gallery from 5 to 7 PM. Participants at the gallery will be Lisa Bisbee Lentz, Carol Jones, and Jon Derby. Lisa and Carol will be painting in oils and showing their many pieces at the gallery. Lisa is a graduate of Savannah College of Art and Design and has been a teacher, painter, gallery owner and now author, along with Ben Watford and Jon Derby, of the book "A Brief History of Artists of Eastern North Carolina." Carol has been painting for over 40 years, and her work is currently displayed at The Greater Good Gallery and MJ's.
Jon Derby is an educator who has had a lifelong interest in the camera, which he formalized upon retiring here from Hawai`i with courses at Craven Community College where he also became a lab assistant for photography and computer art. While doing some traditional photography, his passion is digital art I a pop art style.
This evening will feature the book, "A Brief History of Artists in Eastern North Carolina" by Lisa Bisbee Lentz, Ben Watford, and Jon Derby. The book has been two years in the making and features the artwork of many of the artists in this area. The book will be on display and available for purchase in paperback ($35), hardback ($65), and a collector's edition ($105).
Submitted by: Jon Derby