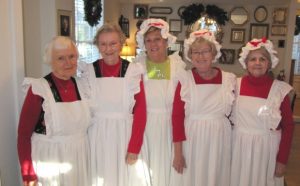 December 9th from 10:30am – 3:30pm
Historic Downtown New Bern
The New Bern Woman's Club invites you to join them in a favorite holiday tradition on Saturday, December 9th when they present their 19th annual The Holly & The Ivy Holiday Homes Tour.  Stroll through the charming streets of New Bern while visiting five historic homes festively decorated for the holiday season and a fabulous new condo in a historic downtown building.
This year's tour features a lovingly renovated "shot gun" home, a many-gabled Victorian "mansion", a charming 1920's two-story complete with front porch and rocking chairs, a lovely early 20th century home made with local New Bern brick and a spacious modern condo located on the 4th floor of a historic downtown commercial building. Be sure to stop in at the Sugar Plum Treats House, one of the oldest homes in New Bern circa 1760, for homemade cookies and warm cider.  Photos of all the homes on the tour can be found on our website.
The New Bern Woman's club is a non-profit service organization that has been around since 1905.  Over the last 112 years, we have donated millions of dollars to local charities, civic projects and annual scholarships.  We have also spent countless hours volunteering at various community activities; working to make New Bern a better place for residents and visitors alike.  The Holly & The Ivy is our major fundraiser and has become a holiday "must attend" for local residents and guests from around North Carolina.  All proceeds from this tour go directly back into the community.  For membership information, please visit our website.
Tickets can be purchased from the Bank of the Arts, 317 Middle St. or at either New Bern Harris Teeter Stores beginning November 10th.   Phone credit card orders can be placed at 252-638-2577.  Tickets are $15 in advance, $18 the day of the tour.  For additional information send an email or visit NewBernWomansClub.com.
Submitted by Katherine Fannin, Publicity Chairman, New Bern Woman's Club