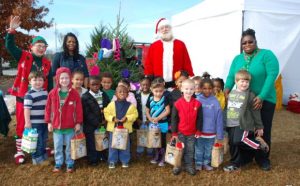 The New Bern Civitan Club's Christmas Tree and Wreath sales begins on Monday, November 20th at its NEW location on US 17 at 3931 Martin Luther King Jr. Blvd, directly across from Snap Fitness.  The freshly cut North Carolina Fraser Firs are priced at $45, $55 and $65 depending on size.  They range in height from 6 feet to 9 feet.  Wreaths fashioned by local artisans are $25 to $30 each or $20 with the purchase of a tree.  We will limb and load your tree upon request.
Our Tree Lot opens this year on Monday, November 20th and will remain open until all trees are sold.  Sale hours are 11 a.m. to 8 p.m. Sundays through Fridays and 9 a.m. to 9 p.m. on Saturdays.  The lot will be closed on Thanksgiving.
HUBS peanuts, a part of this fundraiser, will be sold at the lot and at the Farmers Market on Saturdays in November and December – 8.m. to 2 p.m.  Salted and chocolate peanuts are for sale as well as peanut brittle.
All proceeds from this fundraiser support NB Civitan Charities.  In 2016 the NB Civitan Club raised more than $80,000 to benefit local groups such as Craven County Special Olympics, MERCI Clinic, Phoenix House, Boys and Girls Homes of NC, Religious Community Services, Habitat for Humanity, Craven County Association of Retarded Citizens, Family Literacy and the Pre-K Program of Craven County and scholarship programs at Craven Community College and New Bern High School.
We appreciate your support and patronage from the past.  We ask you to continue to help us help those in need.  Thank you.
Submitted by: Maureen Comer, New Bern Civitan Club