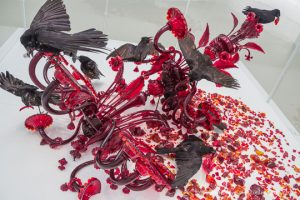 Your Ultimate Fall Foliage Destination
As another hot, humid summer gives way to fall; our thoughts turn to the simple pleasures of the season. For many, a fall foliage-based vacation has become a tradition. If your plans are to head north, consider New York's Finger Lakes as your destination. You'll find an endless variety of things to see and do while watching nature's glorious transition in one or all of these four towns.
Hammondsport
This charming town is located on the shore of Keuka Lake: beautiful any time of year, but especially when the trees dress in their autumn finery. The array of tempting shops, antiques and restaurants at Village Square will keep you pleasantly busy when you're not taking in the glorious scenery.
Since the Finger Lakes Region is famous for its wineries, a pleasant scenic drive to Keuka Lake Vineyards is in order. Drop in for a wine tasting during regular business hours. Off-hours tastings are available by appointment only. If you're lucky, you may run into owner Mel Goldman. If you do, you're sure to be entertained by his knowledge, wit, and wisdom included with your samplings of his world class dry wines. Keuka Lake Vineyards, 8882 County Route 76, Hammondsport, NY, 607-868-4100.
End your day at Depot Park, where a few short weeks earlier, summer visitors were enjoying picnicking and swimming under the watchful eyes of lifeguards. The water may be too cold for a dip, but picnicking is still on the table. This park is a delightful place to enjoy dining alfresco while watching the sunset intensify the autumn brilliance surrounding you.
Watkins Glen
This town is a fall foliage freak's paradise. From a leisurely stroll along the lakefront in Seneca Harbor Park; to a more challenging hike in Watkins Glen State Park. Fiery shades of fall will accompany you every step of the way.
Thundering waterfalls in Watkins Glen State Park, Montour Falls, and Shequaga Falls, are even more spectacular as they reflect fall colors. The latter can be found in a pleasant park right in the middle of town.
Walking, and/or hiking can work up a powerful thirst, and area wineries, craft breweries and distillers will step up to the plate – or should I say glass – to help. A tour and tasting at Atwater Estate Vineyards is a fine place to begin. Learn about the winery while savoring samples of Atwater's delicious wines. And as an added bonus, your tasting comes with a panoramic view of Seneca Lake. Atwater Estate Vineyards, 5055 State Route 414, Burdett, NY, 607-546-8463.
In the mood for something stronger? Try a tour and tasting at Finger Lakes Distilling, the first stand-alone craft distillery to grace the region. Before you leave, you might want to purchase a bottle of their oak barrel-rested whiskeys, flavored vodkas or liqueurs to take home. Finger Lakes Distilling, 4676 State Route 414, Burdett, NY, 607-546-5510.
Corning
If Corning makes you think of blue and white casseroles, forget it. They don't make them anymore. But they do make glass, and plenty of it. And although the Corning Museum of Glass is a must-see, Corning is rich in art and history that will draw you in and hold your attention on a crisp fall day.
The Rockwell Museum may be one of Corning's lesser-known gems, but oh, does it shine. The museum's exhibit rooms contain exceptional collections of Traditional Western and Contemporary Native American Art. The Rockwell Museum, 111 Cedar St., Corning, NY, 607-937-5386.
Market Street Is the heart of Corning. Along with its shops, restaurants and art galleries, It's also home to some fascinating architecture. To help you make the most of Market Street, you can download Buildings Alive!", an architectural and historic walking tour of Market Street to your mobile, and start walking. There are 19 historic and architecturally significant sites along Market Street. You can start and stop the tour at will, and the narration is entertaining and easy to follow. Visit GafferDistrict.com for details.
You might want to save the Corning Museum of Glass for a rainy day, because you'll need at least half a day to do justice to the world's largest museum of its kind. It received this designation long before 2015, when the 100,000 square foot the Contemporary Art + Design Wing was added. Walk through 35 Centuries of history in glass, watch master glassblowers demonstrate how it's done and make it look easy. Then try your lips at creating your own glass pumpkin. During the Great Glass Harvest, you will also see the world's largest blown-glass pumpkin at the museum. Corning Museum of Glass, One Museum Way, Corning, NY, 607-937-5371.
Elmira
If you're a Mark Twain enthusiast, Elmira is the place for you. Begin with a visit to the gravesite of Samuel Clemens at Woodlawn Cemetery. You can pay your respects to this great man surrounded by the warm hues of fall.
Twain spent many summers at Quarry Farm, writing in a small octagonal studio built for him by his sister and brother-in-law. Huckleberry Finn, Tom Sawyer and other beloved characters were born during those summers. The spectacular view from his studio, overlooking the sweeping Chemung River Valley, gave him endless joy while fueling his talent and creativity.
Before you leave Woodlawn, be sure to visit the Historic National Cemetery, the burial site, of nearly 3,000 Union and Confederate soldiers.
A short distance from the cemetery is Elmira College, the home of the Center for Mark Twain Studies. There you will find Mark Twain's studio, which had been moved from Quarry Farm in 1956. Then look in on the Mark Twain Exhibit housed in Cowles Hall. While in the building, be sure to take in the magnificent stained glass in the chapel. The Center for Mark Twain Studies, Elmira College, One Park Place, Elmira, NY, 607-735-1941; Virtual Tour of Quarry Farm; and Mark Twain Country.
Before you leave Elmira, treat yourself to a visit to the National Soaring Museum. In case you didn't know, Elmira has been dubbed America's official Soaring Capital.
Fall is the ideal time to turn your eyes skyward to see graceful gliders against a brilliant blue autumn sky. Then take your time exploring the largest sailplane collection in the world, as well as many rare gliders, in the museum. The National Soaring Museum, 51 Soaring Hill Rd., Elmira, 607-734-3128 and Harris Hill Soaring Center.
If You Go:
Whether you're looking for a romantic getaway or a multi-generational family vacation, the Finger Lakes has everything you need to make the most of the autumn beauty and bounty of this unique region of New York. Since the fall foliage usually peaks the first two weeks of October, here are three websites to help you set your plans in motion today: CorningFingerLakes.com/fall-foliage-finger-lakes, FingerLakesWineCountry.com/things-to-do/five-season-fun/fall, and VisitFingerLakes.com/events/fall-foliage.
Disclaimer: our Finger Lakes visit was generously hosted by Corning and the Southern Finger Lakes. However, all opinions, as always, are entirely my own.
By Contributing Author: Penny Zibula, Freelance Travel Writer and Blogger, Six Legs Will Travel