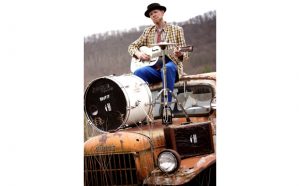 Friday, October 13, Trent River Coffee Company
Saturday, October14, Joslyn Hall
The sound of Old Man Kelly comes broadly from the early days of American roots music: when bluesmen sang from front porches on hot afternoons: when swing bands played dances in speakeasies late into the night; when being an American troubadour was a trade. Since the 20013 release of Songs, Stories, Shanties and Shenanigans, Old Man Kelly has gigged relentlessly, bringing his vintage sound to over 300 swing dances, festivals and honky-tonks throughout the central Appalachian mountains.
The 2016 release of Off My Lawn is the recorded product of brazenly original and yet familiar-sounding tunes. Check out "Exitville" and "Milk Cow Blues" to get the feel of Old Man Kelly. As a one-man-band, expect a couple of guitars, a banjo or two and an arsenal of harmonicas and a whole lotta sound.
For more information, call 252-646-4657 or visit Down East Folk Arts Festival's website.
Submitted by: Evelyn Richards, Down East Folk Arts Festival