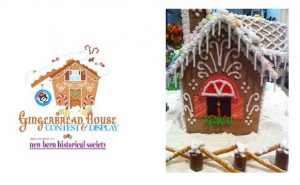 New Bern Historical Society Sponsors New Event
Remember gingerbread houses with starlight mints, candy canes, Necco Wafers and gumdrops? The New Bern Historical Society hopes that you do and you'd like to make one just like Mom's.  The Society is sponsoring a Gingerbread House Contest and Display as part of the festivities of Beary Merry Christmas downtown.  Individuals and groups are invited to make their own gingerbread house and enter it in the contest. Completed houses will be displayed at selected downtown merchants. There will be three categories for contestants:  Youth (up to 14), Adults, (age 15 and up), and Professionals (bakers, chefs, caterers, cooks, etc.)  There will be cash prizes up to $200 and special prizes hand made by the Eastern North Carolina Potters Guild. And the first 50 who enter will receive a hand-crafted pottery ornament. The deadline to enter is November 17th.  Information and entry forms will be found on the New Bern Historical Society website at NewBernHistorical.org/gingerbread/ .
Executive Director Mickey Miller is excited about this new event.  She explains "The contest is not a fund raiser; rather its purpose is to encourage and inspire creativity, celebrate the season, and increase community involvement. We are thrilled with our partnership with the local potters and ceramicists in providing unique and creative prizes and we're very happy to be working with Beary Merry Christmas and the downtown merchants. We look forward to seeing a wide range of gingerbread designs from simple cottages to historic homes."
The Historical Society is hoping for participation from throughout the community, and is reaching out to schools and churches and organizations to encourage youth participation.  They will also contact local restaurants and caterers, and adult groups as well.  Entries may come from either individuals or groups.
For those who are interested, but not sure of their gingerbread skills, The Historical Society will offer a workshop, Building A Gingerbread House on November 2 at 7pm at Craven Community College.  In this one-hour class, under the guidance of Dawn Staats, you will   learn the basic knowledge needed to build and decorate your very own gingerbread house with no-fail dough and icing recipes. In addition to demonstrating how to make them so they hold up in our humid southern climate, she will share the tips and tricks for success developed over many years. After this class you'll be ready for enter the contest. Cost is $10.
The mission of the New Bern Historical Society is to celebrate and promote New Bern and its heritage through events and education.  Offices are located in the historic Attmore-Oliver House at 511 Broad Street in New Bern.  For more information, call 252-638-8558 or go NewBernHistorical.org or Facebook.com/NewBernHistoricalSociety.
Presented by: Kathy Morrison, New Bern Historical Society