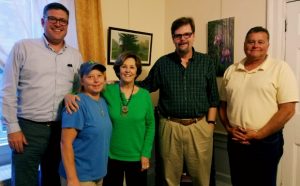 Episode 80
Find out the latest information about our beautiful and happening town of New Bern and Beyond. Beyond, meaning our travels throughout Eastern North Carolina.
During this show, New Bern Now's Podsquad: Susan Moffat-Thomas, Rich Sheridan, George Oliver, and I talked about all kinds of positive things happening in our community of New Bern, NC!
Listen to our podcast show here:

If you didn't know, The Podsquad meets every other Thursday to record the bulk of the podcast. We also do phone interviews throughout the week and insert the recording into the next podcast and if it's a non-profit or event interview, it also airs on New Bern's News Talk Radio Station WNOS 107.5 FM.
Show notes:
1:18 – Announcement of George Oliver joining us as an Official Member of the Podsquad
3:12 – Interview with Chris Wagner, co-owner of The Sanctuary Gallery
10:56 – Tryon Civitan Club's Peanut Butter Drive for RCS in conjunction with The UPS Store of New Bern
11:40 – Ghostwalk 2017 presented by the New Bern Historical Society
12:07 – All Hallows Eve at Tryon Palace
12:13 – Trick or Treat in the Street
12:34 – Annual Parade of Preschoolers
13:26 – Sudan Burnouts present the Haunted Temple
13:44 – New Bern High School – Distributive Education Clubs of America presents Allegiance Program Honoring Veterans
14:46 – MERCI on Middle
16:32 – Daytrippin to the Crystal Coast
16:55 – Trick or Treat Under the Sea
17:19 – Holiday Stroll and Food Tour with Hungry Town Tours
18:24 – Fall Fishing at the Crystal Coast
19:13 – Interview with Randy Foster about the New Bern Post and other things
46:21 – Upcoming Events
This podcast is brought to you by New Bern Web Design "They can help you find more customers and generate more revenue with your website". Jeremy LeRay is New Bern Now's peace of mind. Visit Jeremy at 315 Metcalf St., call 252-349-0270, or check out NewBernWebDesign.com .
Tune into our latest Podcast episodes and radio interviews on ITunes.
We'll be back on November 6, 2017.
Special thanks to Lisa Bisbee-Lentz and Mike Lentz for letting us record in the Isaac Taylor House!
Please let us know if you have any comments, suggestions, or would like to set up an interview and spread the word about a special event or other interesting topic. You can contact us by sending an email or by calling 252-638-6858.
Wendy Card