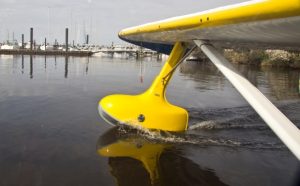 Wings Over Bridgeton, the premier seaplane "fly in" on  the Neuse River, is returning this October 21st and 22nd to the charming Bridgeton Harbor Marina. More seaplanes, float planes and flying boats are expected to visit the Bridgeton and Greater New Bern area this year along with more attractions and family fun. The marina, 1101 B Street, Bridgeton, will host the event where owners and pilots show off their aircraft and give flying demonstration around the area.
Pilots will be bringing their aircraft in starting Friday afternoon. Saturday morning, pilots will allow the public to view their aircraft and answer questions about taking off and landing on the water's surface. At 10am, the aircraft are scheduled to begin taking off and flying around the area circling over Bridgeton, New Bern and who knows where else.
After landing they will engage is competitions for accurate landings near markers and other competitions including dropping missiles, (water balloons or grapefruit), on water borne target. The fun and excitement will at start at 4pm, Saturday afternoon but will recommence the next morning and end around 2pm, Sunday when they take off to refuel and begin their flights home.
Aircraft from around the Carolinas and Virginia are expected to participate and there may be aircraft from further away. This will continue the annual parade of fliers to use our river as a new portal to eastern Carolina and establish its position as an annual event to attract many flying craft to entertain local residents.
The event is admission free, there will be a $5/car parking fee.
For more information, visit FlyBridgeton.com or send an email.
Submitted by: Alan Welch