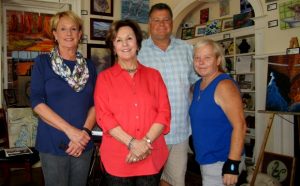 Episode 78
Find out the latest information about our beautiful and happening town of New Bern and Beyond. Beyond, meaning our travels throughout Eastern North Carolina.
During this show, New Bern Now's Podsquad: Rich Sheridan, Susan Moffat Thomas, Peggy Barnes and I talked about all kinds of positive things happening in our community of New Bern, NC!
Listen to our podcast show here:

If you didn't know, The Podsquad meets every other Thursday to record the bulk of the podcast. We also do phone interviews throughout the week and insert the recording into the next podcast and if it's a non-profit or event interview, it also airs on New Bern's News Talk Radio Station WNOS 107.5 FM and 1450 AM.
Show notes:
1:09 – MumFest 2017 and Festival Season in Eastern NC
1:53 – Ghostwalk "Heroes and Hooligans" 2017
3:00 – Kudos to the New Bern Civic Theatre and George Oliver and the Cast in Around The World in 80 Days
5:33 – Barn Bash and Danny and Wendy Batten
6:05 – Adult Enrichment Classes at Craven Community College
11:32 – Peggy W. Barnes, Life Coach, Motivational Speaker and Professional Organizer on "Living Your Life Intentionally"
16:39 – Daytrippin' with Rich Sheridan, owner of the Crystal Coast Discovery Map
– Bogue Inlet Pier
– Surf Fishing Instruction by The North Carolina Aquarium at Pine Knoll Shores
– 7th Annual Crystal Coast Con
– Governor's Challenge Cornhole Tournament at Tryon Palace
– Recap of Piggin' and Grinnin' Concert, Lanterns on the Lawn, and discussion about Tryon Palace and the North Carolina History Center
26:40 – Volunteering in the Greater New Bern area
25:10 – The Entrepreneur Center of Craven County
27:37 – Toastmasters Club of New Bern
28:25 – Small Business Center at Craven Community College
30:05 – Instagram Contest for the Discovery Map Crystal Coast
Upcoming Events:
– Coastal Women's Forum Luncheon with Speaker Pat Sordill
– New Bern Housewives in the City Girls Night Out and Social Networking Social
– Nonprofit Leadership Presentation with Garret Biss
– Patrick Bliss Performance
– Simon Spalding to Examine Food in the U.S. Navy during the Civil War
– Jazz Night with Hot House Quartet
– Ellis Dyson and The Shambles Performance
– Friends of the Library Bi-Annual Book Sale
– John Van Dyke's Madame Z's Pride Show
– Civil War Weekend
– New Bern's CROP Hunger Walk
– Behind the Scenes Tour: Costume Shop
– Vintage nights with Alisa Mike
– The Eastern Carolina Aviation Heritage Foundation's Fall Partnership and Member Appreciation Night
– Standup Comedy featuring Matt White and Friends
– 2017 Fall Forever Home Adoption Event
– The Kitchens of New Bern Tour
– 2nd Annual Embrace Recovery Rally
– Oktoberfest 2017
– New Bern Farmers Market
This Podcast is brought to you by our friends, Camille and Joe Klotz, Innkeepers of the Hanna House Bed and Breakfast "Where you'll find friendly people, terrific service and the best gourmet breakfast!" As far as we're concerned, AirBNBs cannot compare to your local bed and breakfast. Visit them at 218 Pollock St., check out their website at HannaHouseNC.net or call 252-635-3209.
Tune into our latest Podcast episodes and radio interviews on ITunes.
We'll be back on September 18, 2017.
Special thanks to Lisa Bisbee-Lentz and Mike Lentz for letting us record in the Isaac Taylor House!
Please let us know if you have any comments, suggestions, or would like to set up an interview and spread the word about a special event or other interesting topic. You can contact us by sending an email or by calling 252-638-6858.
Wendy Card