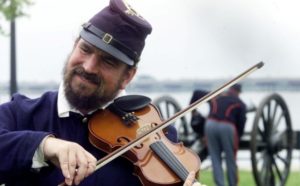 Author lecture, concert and book signing to be held Sept. 22 in Cullman Performance Hall
Tryon Palace will hold a lecture, concert and book signing by Simon Spalding regarding his book "Food at Sea" with an emphasis on food in the U.S. Navy during the Civil War. Author and performer Spalding will present a free lecture-concert in Cullman Performance Hall at the North Carolina History Center on Sept. 22 at 7 p.m.
Spalding's book, "Food at Sea: Shipboard Cuisine from Ancient to Modern Times," is the first to cover the history of food at sea from the Stone Age to the present. "Food at Sea" has received rave reviews from Library Journal, Publishers Weekly, Sea History Magazine and readers. Spalding has been interviewed about the book by BBC World Service and Peter Greenberg-CBS. He has presented lectures on "Food at Sea" at museums and libraries in North Carolina, California, Virginia and Maryland.
Spalding is a New Bern resident, originally from San Francisco. Drawing on extensive research and his own experience in sailing schooners, a sloop, a brig and a barque, Spalding's book covers its subject in sweeping detail. The lecture will be illustrated with poems, songs and sing-along chanteys spanning centuries of human history.
Admission to the lecture is free. For more on Spalding, visit MusicalHistorian.com.
For more information call 252-639-3500 or visit TryonPalace.org.
Upcoming events at Tryon Palace include:
September 23-24: Civil War Weekend
September 26: Behind the Scenes: Costume Shop
September 29: Governor's Challenge Cornhole Tournament
October 3: Behind the Scenes: Costume Shop
Submitted by: Craig Ramey, Director of Public Affairs, Tryon Palace